Travelling North From London - where to visit
Heading north from London stopping at some recommended places on the way with suggestions for side visits. The north is quite different in many ways to the south, in particular the people are generally considered more straightforward and friendlier, you will also encounter a range of accents. Tourists from overseas are less common and away from the large cities in particular you will be out of the ordinary rather than yet another tourist. You'll also find that away from the south east the price of almost everything is lower.
---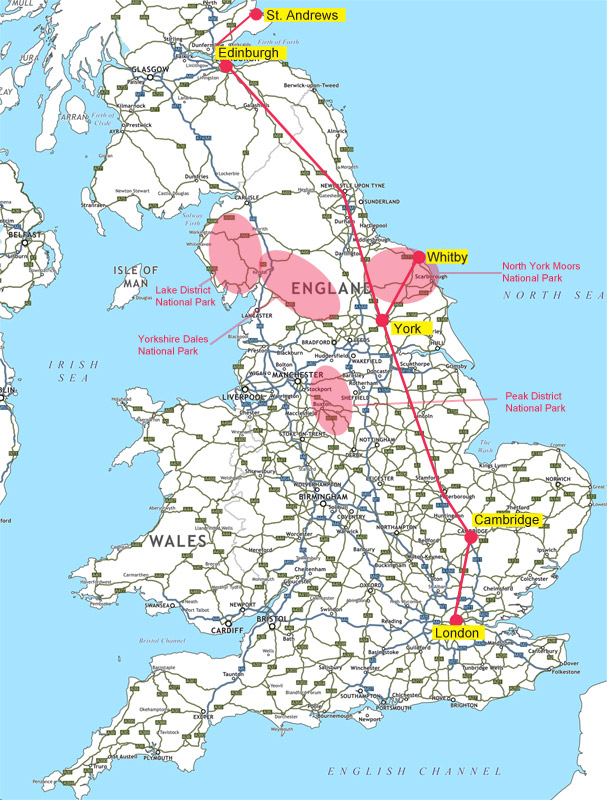 The journey as far as Scotland is a long one, so you might consider going by train, particularly if you aren't so concerned in exploring outside the major centres. A hire car will enable you to explore the national parks you pass by along the way more easily.
Long distance travel by road in Britain can take longer than you may anticipate and the motorways often pass through cuttings higher than the car or have fences or trees alongside to cut noise, so you might not see a great deal of the countryside you are driving through. The view from the train is often considerably better.
Buses (coaches) provide a cheaper though slower way of making the journey.
I'm not going to suggest how long you stay in each place, but none can be done justice with a flying day visit, at least one overnight is needed to get more from each place. If you are only going to Edinburgh and Scotland from London, flying is a lot quicker and cheaper than taking the train, even with the connections to the city centres at each end.
London to Edinburgh - 400 miles / train 4h 30 min to 5 h 30 min / car 7h 30 min / fly 80 mins + connections.
---
First stop - Cambridge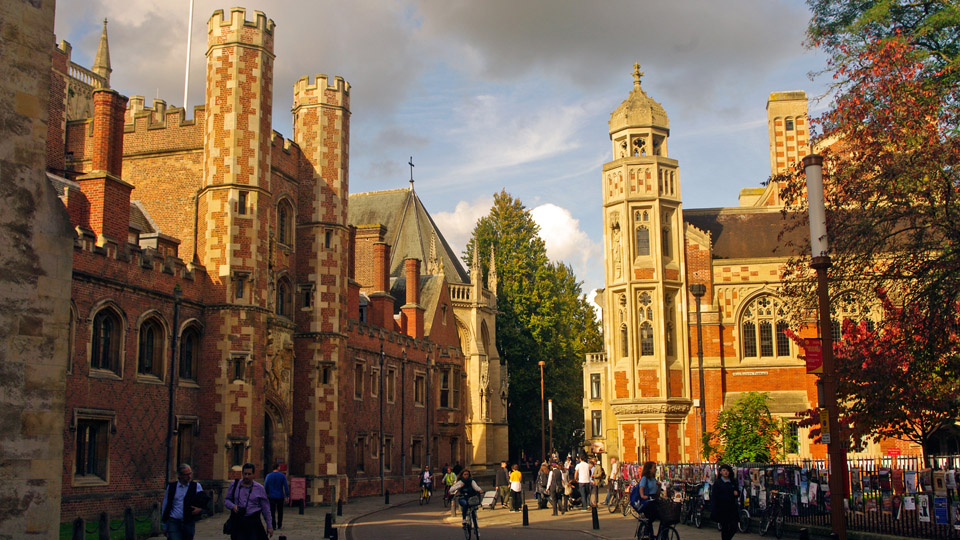 London - 60 miles / train 50-90 mins / car 90 mins
A small walkable city that is home to probably the best university in the world. The university colleges are the stars here, they give an almost theme park atmosphere when walking about the streets. Several of the colleges are open to visitors (not at exam times) make sure you visit Kings College, you can punt on the river Cam as it picturesquely meanders around the university buildings, visit a number of free museums or make the most of this regional shopping centre with its range of larger stores and eclectic mix of smaller independent shops interspersed with many eateries.
Find accommodation in Cambridge
More about visiting Cambridge
Nearby: Grantchester, pretty village within walking distance across fields - 2.5 miles. Ely, and Ely Cathedral - 14 miles. Imperial War Museum Duxford, largest aviation museum in Europe - 9 miles. Cambridge American Cemetery, WW2 memorial to American service men - 3 miles.
---
Second stop - York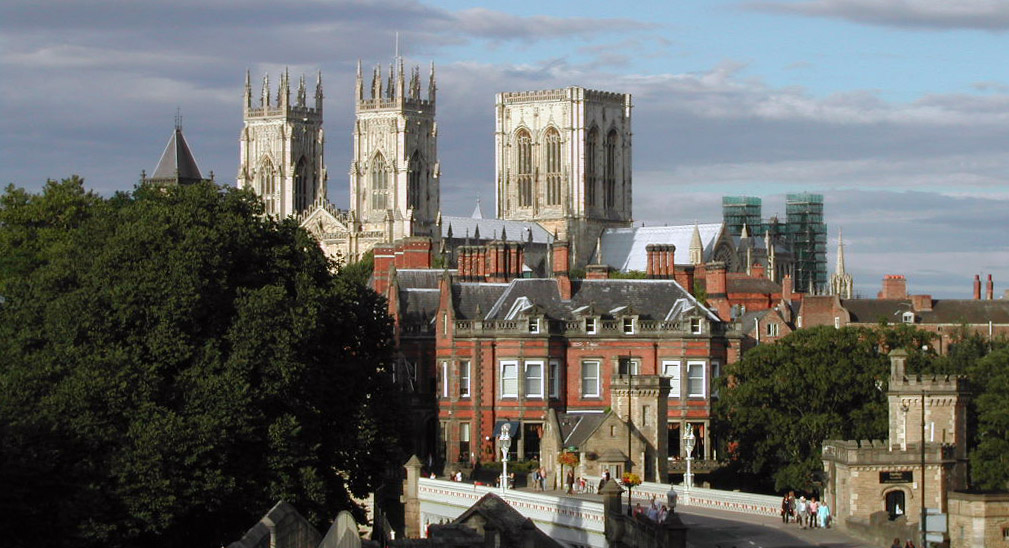 Cambridge - 158 miles / train 2h 10 min to 3h / car 3h
London - 216 miles / train 2h / car 4h 30 min
Founded by the Romans in 71 AD, the county town of Yorkshire, the city of York is a historic walled city, a regional capital in turn for the Romans, Vikings and the Church of England. It has been at the centre of major national events for most of the last two millennia. There are a host of tourist attractions and activities along with ancient buildings and narrow cobbled streets that are still part of the living city.
Stroll around the city walls and then the shops in the medieval "Shambles", visit the enormous gothic cathedral that is York Minster, find out about the Vikings at the Jorvic Centre, explore three hundred years of social history at the Castle Museum. If you want something a little different there is The National Railway Museum, a chocolate museum and guided "Ghost Walks" with top quality story telling amongst other options.
Nearby: Castle Howard, spectacular country estate - 15 miles. Harrogate, spa town - 20 miles. Howarth, home of the Bronte sisters - 44 miles.
---
Side trip from york - Whitby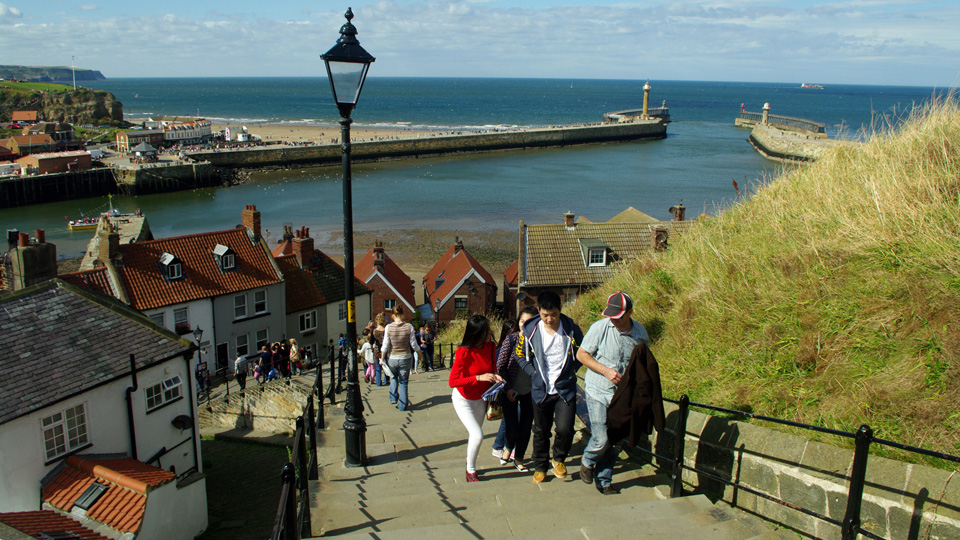 York - 47 miles / train 2h to 3h / car 1h 20 min
One of England's most beautiful small seaside towns dating back to 656 AD, with links to shipbuilding and whaling, this is where Captain Cook's Endeavour was built in 1764. In Victorian times the ruins of the Abbey that towers impressively and spookily over the town near the edge of a cliff inspired Bram Stoker to write "Dracula". Walk along quaint winding cobbled streets with interesting shops, climb the 199 steps to the cliff over the town and visit the abbey ruins and grounds.
Go on a boat trip for 30 mins up to a whole day, hunt for fossils on the beach at low tide and most of all eat fish and chips while looking out to sea. In the spring and summer months it is possible to get a steam train across the North Yorkshire Moors from York to Whitby, Goathland station on the line played Goatsmeade Station in the first Harry Potter film. You could stay a night or two or more, or make a day trip of it from York.
Find accommodation in Whitby
More about visiting Whitby
Nearby: Robin Hood's Bay, a very pretty seaside village - 7 miles. North York Moors - upland area with huge expanses of heather, deep valleys with woodland, sea cliffs on the coast. Scarborough and Castle, more of a kiss-me-quick seaside town with the ruins of a 12th century castle - 20 miles.
---
Third stop - Edinburgh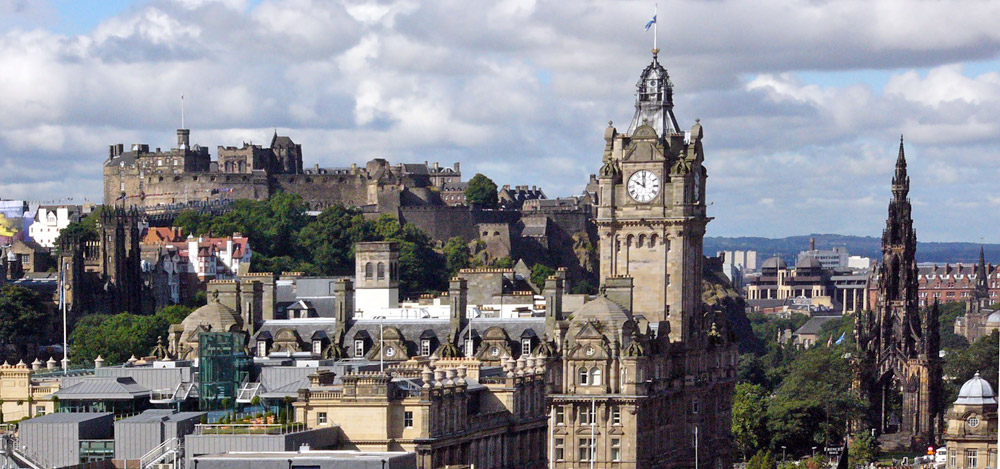 Picture used courtesy of Christian Bickel, used under CC BY-SA 2.0 DE licence.
York - 200 miles / train 2h 30 min / car 4h 10 min
London - 400 miles / train 4h 30 min to 5 h 30 min / car 7h 30 min / fly 80 mins + connections.
The capital of Scotland since about the 15th century, Scotland is part of the United Kingdom though is a different country to England, you will notice differences to London but not so much to the north of England, it's more of a gradual change. The most obvious immediate differences difference will be accents and the money, it's still £GBP but Scottish banknotes* are different. While there are museums and sights to visit here, one of the main attractions is the Scottishness of it all and the contrast to London and England which is where many visitors begin or end their visit to the UK.
There are lots of interesting and attractive streets to walk along, begin with the Royal Mile which stretches from Holyrood Palace to Edinburgh Castle, this could take most of a day in itself if you enjoy the shopping, restaurants and cafes. Then Prince's Street to take in the Scott Monument dedicated to locally born author Sir Walter Scott, and climb up it for a small fee if you're feeling energetic. Edinburgh Castle is a must overlooking the city from the peak of an extinct volcano. Arthur's Seat is a great vantage point to see the city and surrounding area, a short walk from the city centre in Holyrood Park. The beach at Portobello is another nearby area to investigate a 15 min bus ride away.
During the month of August there is the world's largest arts festival here, the Edinburgh International Arts Festival and the Fringe Festival with literally thousands of shows and events taking place over a period of just over three weeks.
Remember you're in the UK still, but now in Scotland so don't say England or English when you mean Scotland or Scottish.
Find accommodation in Edinburgh
Nearby: Royal Yacht Britannia - Leith Docks, a 15 min bus ride - 3 miles. Various guided day trips, eg. to: Glencoe, Loch Ness or Hadrian's Wall - 2.5 to 3 hours each way
*Your English money will be accepted in Scotland and while Scottish notes are legal tender in England they are quite rare there and won't be recognised or accepted everywhere, so try to leave with a few as possible.
---
side trip from Edinburgh - st. andrews

Edinburgh - 52 miles / train + bus 1h 30 min / car 1h 50 min
A coastal town in Fife about 50 miles (80km) from Edinburgh. There was a significant church here in 747AD and for many years St. Andrews was the ecclesiastical capital of Scotland though the cathedral that was once the largest in Scotland is now a ruin. It is also known as the "Home of Golf" and has a number of world class golf courses, there are many more golf courses along the coast. St. Andrews is home to Scotland's oldest university founded in 1413.
St. Andrews is a small walkable town that gives a taste of non-city Scotland, the coast and harbour are well worth a visit, its strongest attraction is for golfers with a round at the The Royal & Ancient Golf Club appearing on many bucket lists. If you want to play here, make sure you book well in advance and expect to pay premium fees for the most famous Old Course, other nearby courses are much more affordable. When I lived in St. Andrews in the 1980's I could have played for free at the Old Course by just proving I lived in the town (as long as it wasn't otherwise booked) pity I wasn't a golfer.
Find accommodation in St. Andrews
Nearby: West beach - just out of town, a huge usually almost empty expanse of sand with great surrounding views. Picturesque fishing villages: Crail, Pittenweem and Anstruther are recommended, within half a days bike ride of St. Andrews, I used to visit them often - 10 miles.
---
side trips - national Parks
Lake District, Peak District, Yorkshire Dales, North York Moors
On the way north, you will pass by these four National Parks, any one of which could be a destination in itself for an overnight visit or much longer to experience the British countryside. If you can fit any of them in, I recommend that you do, they get lots of tourists, but they are mainly British tourists, most of all get off the roads and walk some footpaths, eat and drink some local produce and breathe in an authentic experience of Britain.
Peak District - Limestone in the south, river valleys and more gentle landscapes, gritstone and moors in the north, higher hills and wilder country.
Lake District - The deepest lakes and highest mountains in England with woods, forests and coast, literary connections with poets.
North York Moors - North East, upland area with huge expanses of heather, deep valleys with woodland, sea cliffs on the coast.
Yorkshire Dales - Upland area of the Pennines with river valleys, limestone caves.