Authentic British Experiences

Places to go, food to eat, things to do
---
Fish and chips by the sea-side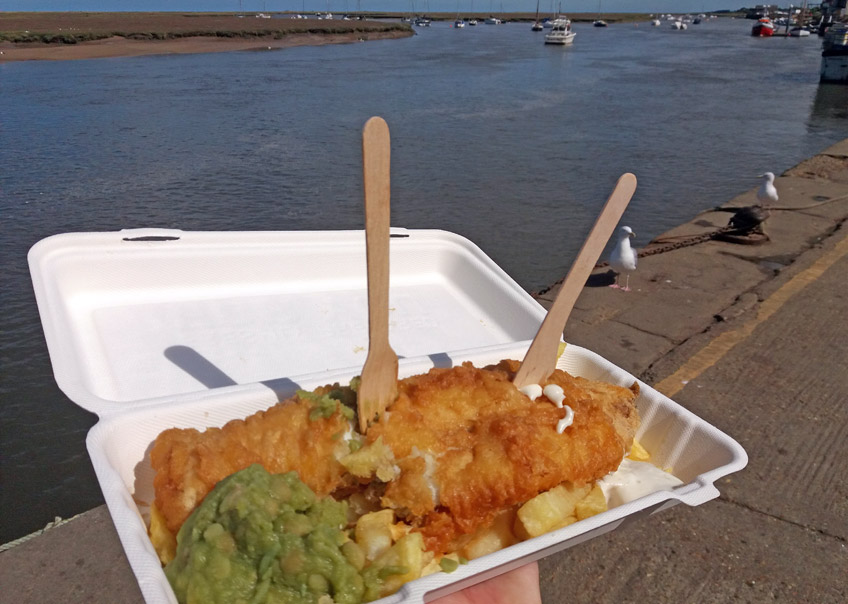 Fish and Chips + Sea View - White fish deep fried with chips, lots of salt and vinegar, brown or red sauce is usually available or mayonnaise (there's posh), there will usually be peas and maybe tartare sauce (there's posher).
This combines two of the favourite things of the British. Get a take-away haddock and chips (or cod, but I prefer haddock) with mushy peas, plenty of salt and vinegar and a little plastic or wooden fork, take a short walk to a seat or bit of concrete breakwater and enjoy them while you enjoy the view. If you're lucky, you might find a cafe that looks out to sea so you can sit down with them on a plate and a cup of tea too.
I suggest checking out where you are going to sit first before buying your fish and chips as you don't want to be wandering around with them getting cold.
Where? - Any coastal town.
When? - Every day.
Other classic British Foods | British produce
---
Walking / hiking in the countryside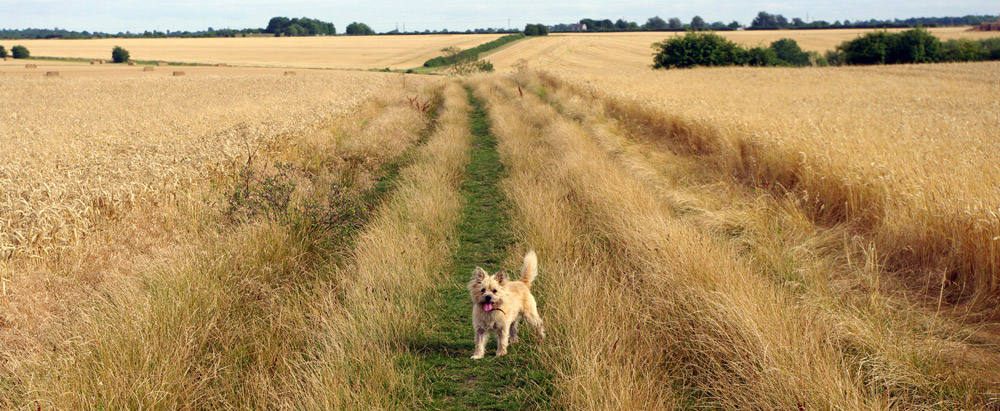 Walking in the Countryside - a companion is always nice, human or otherwise
Walking out in the open air is a very popular thing to do in Britain, the temperature lends itself to it year round without very often getting too hot or cold to be able to do it fairly comfortably. Whether it is a walk in the park with the family and dog, a walk along some of the of coast, one of the long established long distance footpaths or just a local walk following ancient rights of way.
Shorter easy walks with family and friends may be had in country parks, National Trust or English Heritage properties that are widespread across Britain, you will probably need a car or bus to access them from where you are staying.
There are fifteen National Parks in Britain and many other scenic places where you can walk. You cannot walk completely freely but there is an extensive network of footpaths and rights of way that you are free to walk across even where they cross private property, landowners are required by law to maintain the footpath and allow free access. Wherever you are in Britain you will be within less than an hours transport to open countryside and some proper fresh air.
I am trying to keep away from being too specific about where to go on this page as I find it frustrating as a tourist to be told the best place for what you want to do is 50 / 100 / 500 miles away from where you are and you have no way of getting there. However, assuming you are doing some planning in advance, here are some suggestions of where to head for or that you might include on your trip.
The Coast - Britain has 11,000 of coast line (depending on how you measure it), more than France, Spain, Italy or the USA, and you're never more than about 70 miles (112 km) from the sea in Britain.

Opening in stages from 2020 there is an England Coastal Path, the longest managed and waymarked coastal path in the world. Wales also has a coastal path and some of the best castles. For the closest to a wilderness experience the UK has to offer Scotland is the place to head to with it's own long distance paths and plenty of shorter options too closer to civilization.



National Parks - My personal favourites are the Lake District (lots of hills and mountains as well as lakes), The North Yorkshire Moors, Snowdonia and the Peak District, mainly because these are the ones I am familiar with and so I can recommend them. Britain doesn't have any particularly large mountains, but it can have difficult conditions and some proper mountain weather in hilly regions, so go prepared with good walking boots and spare clothing, especially waterproofs. The most well known areas can be very busy over public holidays from spring to autumn, but off season and midweek, you can find yourself either alone or as one of very few people you see through the day.


Hadrian's Wall - Stretching from coast to coast in the north of England, near the border with Scotland but between 0.5 and 68 miles from the Scottish border. The Roman emperor Hadrian ordered the building of a wall and work began in AD122, the usually accepted explanation is that Rome gave up on conquering the north of Britain, though the real reason for its construction is unknown. At 73 miles (117.5 kilometres) long, it is the largest Roman artifact anywhere. The wall has been dismantled in places over the years as a source of stone for local building projects though much of it remains along with evidence of forts along the length.


What about all that rain? The rainfall in the UK isn't what you might imagine, there are more rainy days per year on average in Miami, Rio de Janeiro, Mexico City, New York and Sydney than in London. The south east of the country is the driest place and the west coast the wettest especially in Scotland. If you are going to be out for any length of time, a lightweight rainproof jacket in your rucksack is a must, with waterproof trousers if you'll be out longer.
The main thing you should be aware of with the British weather is that it can change very quickly and may be quite different from one day to the next, there's a saying that climate is what you expect and weather is what you get, sometimes you can get quite a lot of weather in a short space of time in Britain. It's not the place to come for guaranteed sunshine, we get variety and we get four clear seasons. Why Britain's weather is so variable.
Where? - The coast is never more than 70 miles from wherever you are in the UK.
When? - Any time.
---
Choral Evensong at St. Paul's Cathedral or Westminster Abbey, London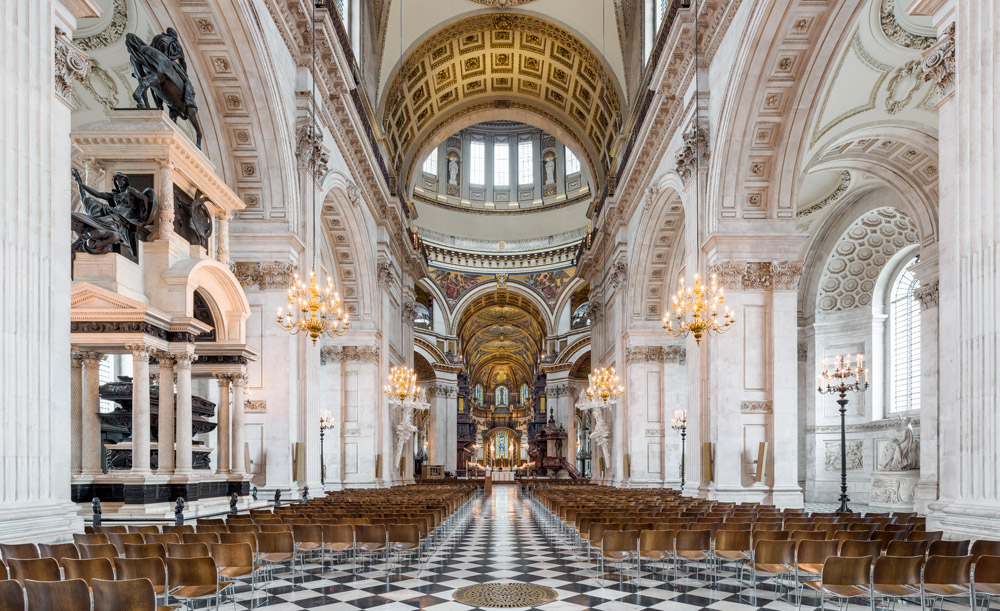 St Paul's Cathedral Nave, London - the setting for choral evensong each day
5 to 5.45pm Monday to Saturday and 3.15 - 4pm on a Sunday. Entry is free to participate in the service after the last entries for sightseeing visits. You don't have to be religious or Christian to attend (I'm neither and I think it's great). St. Paul's is easy to get to and centrally placed in London with an underground station of the same name hardly any distance away, it makes a nice calming and relaxing end to a day spent sightseeing or shopping in London.
St. Paul's is one of the world's great cathedrals, the current building has been in use since 1697 after the previous cathedral here was gutted in the Great Fire of London in 1666. The atmosphere with the choir singing inside such a magnificent building is quite ethereal, choral evensong is a daily occurrence that attracts local and visiting worshippers along with tourists from near and far.
Westminster Abbey evensong starts at 5pm Monday to Saturday and 3pm on Sundays. Underground - Westminster (Jubilee, District & Circle Lines) St. James's Park (District and Circle Lines).
Construction of Westminster Abbey began in 1245, it is the traditional place of Coronations and the burial site for English and later British kings and queens.
Where? - Central London.
When? - Every day.
---
Visit a Royal Residence where the Queen lives
Buckingham Palace, Windsor Castle, Sandringham, Balmoral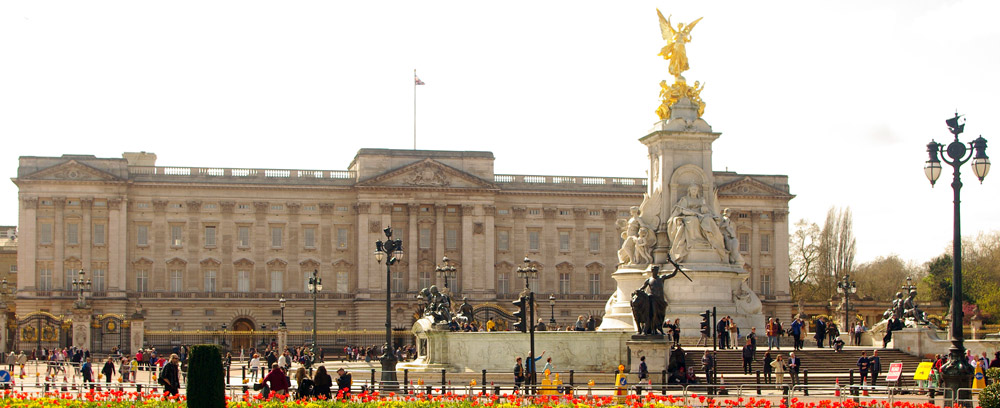 Buckingham Palace - the official London Residence of the Queen, one of 4 regular residences, the flag tells you if she's home. Visit the royal state rooms used for ceremonial and official occasions.
An authentic experience? These are the places that the queen lives for at least some time during each year, so they are still used for their intended purpose, the visitor tours take you around many of the state rooms that are used. They are also places that are visited in large numbers by the British themselves, having a look at where the royal family live and see what being royal means today, so I reckon they just about fit the "authentic" description.
While there are other Royal Palaces and residences where the queen stays during official visits, these are the ones where she lives. Visitors are usually admitted when the queen is not home, if the Royal Standard is flying it signifies the queen is in residence.
You are advised to book online in advance to avoid ticket queues when arriving, the audio tours are well worth having.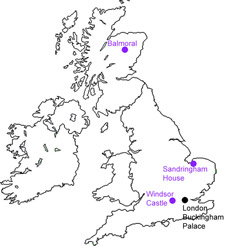 Buckingham Palace - The Queen's official London residence opens each summer, there is a tour through 19 State Rooms that are used for ceremonial occasions and official entertaining, these are the places you see on the tv when the queen invites people to Buckingham Palace. There are many antiques and art works from the Royal Collection in each of the rooms. You'll probably come away wondering how to get yourself invited to a lavish royal banquet. Exit through the palace gardens.



Where?

- Central London


When?

- 10 weeks each summer, usually late July to the end of September.


Windsor Castle - A royal castle since the 11th century, the oldest and largest occupied castle in the world. Located near to London, Windsor Castle is the preferred weekend home of the queen, ceremonial and state occasions also take place here.



Where?

- The town of Windsor, about 25 miles west of central London.


When?

- Year round, closed Tuesday and Wednesdays (2022) sometimes the whole or parts of the castle are closed for a day or two, there are 6 such planned days in 2022 for instance.


Sandringham - A privately owned country estate and residence of the Queen, in the Royal Family since it was purchased in 1862 by the Prince of Wales (later King Edward). The Queen and her family spend Christmas here every year making it their official home until February. Visitors can tour the house, a museum and the extensive gardens.



Where?

- Norfolk, about 6 miles from King's Lynn and the coast, 117 miles north of central London. There are some lovely beaches along the Norfolk coast to visit before or after, I recommend Holkham beach to walk and Wells-next-the-sea for fish and chips, look out for local honey for sale at the roadside.


When?

- Early April to late October.


Balmoral - Another privately owned large country estate and residence of the queen in the Royal Family since it's purchase by Prince Albert in 1852. This is where the Queen spends her summer holiday each year from the end of July to September, usually joined by other family members for at least part of the time, it is said to be the queen's favourite home. Only the ballroom is accessible to the public in the castle, the gardens and grounds are open to visitors, there are some holiday cottages available for rent on the estate.

Where? - Royal Deeside, Aberdeenshire, Scotland, 6.2 miles west of Ballater and 6.8 miles east of Braemar, about 500 miles north of central London.


When?

- Early April to late July. Holiday cottages may be rented year round, though not while the Royal Family are in residence which is usually during August and September.
---
Attend a Henry Wood Promenade Concert at the Albert Hall

A Promenade Concert - An 8 week festival of summer classical music concerts at the Royal Albert Hall in London and some other venues around Britain
Since 1895 there has been a season of summer classical music concerts in London known as "The Proms". These begin in the first half of July and end usually on the second Saturday of September. There are concerts everyday in the Royal Albert Hall (central London) with a lesser number of associated events that occur in other venues too such as talks, workshops, family events and proms with a particular theme. The proms end with the renowned "Last Night of the Proms", a very different event to most of the concerts that occur and a very authentic British cultural event, there are also "Proms in the Park" at the same time which take place in London, Northern Ireland, Scotland and Wales.
Last night of the proms on Youtube (it starts properly at about 4.30) | The Proms website, see the programme and buy tickets
Where? - Royal Albert Hall in London, other selected venues in London and occasionally elsewhere.
When? - 8 weeks from mid July, usually ending on the second Saturday in September.
---
Climb a Cathedral or Church Tower

The view from Great St. Mary's Church Cambridge - Going up a church tower means climbing Victorian, medieval or earlier spiral stone steps with the reward of a town or city centre open air view. Cambridge market on the left, in the other direction, King's College quad and chapel on the right
There are churches and cathedrals all over the UK, until 100 years ago in most places they were still the tallest buildings around. As they mostly have or did have bells in them, they usually have a set of stairs leading up to the top to at least give access to the bells if not to allow people to go up to see the view. Many of these churches and cathedrals allow people to climb the towers, though not all do and of those that do, access may be denied in very stormy or windy weather.
As these buildings are invariably a hundred years old or many more (my local village church is over a thousand) don't expect modern style stairs or an easy climb. Access is typically via a door that will require you to duck to go through, the stairs themselves are usually narrow, spiral, made of stone, rather steep and somewhat claustrophobic, and there are usually quite a lot of them, Great St. Mary's Church, Cambridge from which the pictures above were taken has 123 medieval steps to get to the top.
Once at the top after your climb that was exactly as it was through the centuries, you are rewarded with a great view that for (probably) hundreds of years was the highest it was possible to ascend thereabouts. Take care on the way down, it's nowhere near as strenuous but feels more precarious.
---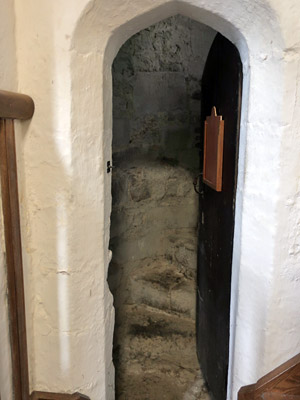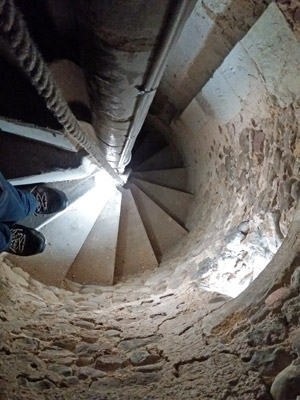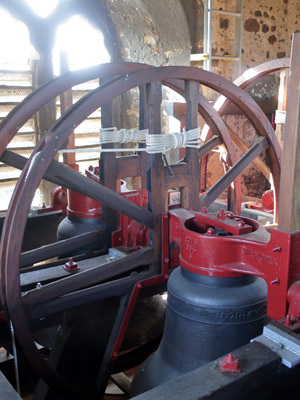 Left - a typical medieval door to a church tower, most will have to duck to get through. Centre - the top of the steps looking down, a window for light at the side and a rope up the middle as a handrail. Right - part of the bells at the top of the tower. Church bells are usually hung in a set of 6 or 8 (can be 3 to 16) and tuned to a diatonic scale to allow "chnage ringing". There are about 6,140 sets of such bells in churches worldwide of which 6,017 are in the UK and 5,950 are in England.
Where? - Around the country, mainly in towns and cities as country churches are usually locked and unattended most of the time.
When? - Year round, there will be opening hours from around 10am to 5pm, earlier closing in the winter and probably no access in stormy or icy weather.
---
Pantomime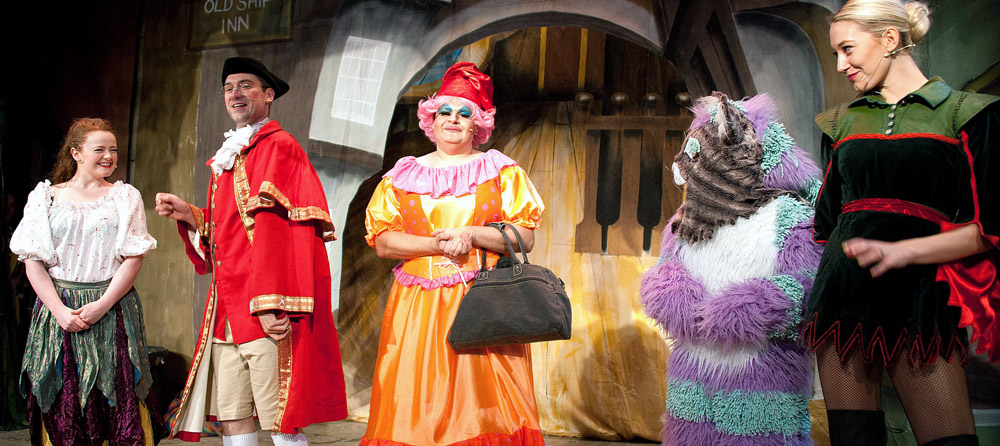 Pantomime, this one is Dick Whittington - Women dressed as men, men dressed as women, bright and bold costumes, old stories and modern dialogue, cheesiness abounds! (in a good way)
A peculiarly British form of theatre with roots that go back to the 14th century and is quite different to what is understood as pantomime in most others countries, it has nothing to do with mime. Pantomimes are based on well known children's stories, usually fairy or folk tales, Snow White, Babes in the Wood (including Robin Hood in that case), Sleeping Beauty, Aladdin, Dick Whittington etc.
There are aspects that are always the same, a character known as the Principal (or Best) Boy is a woman playing a lead male role, there is a Pantomime Dame, a larger than life middle aged female character played by a man, there is always an obvious villain and lots of audience participation. The villain is booed loudly by the audience when he or she comes on stage, at some point a scary creature (often a ghost or giant spider) creeps up on one someone, the audience shout "It's behind you!" and when the character turns round it disappears, this is repeated several times. An ongoing argument between a character and the audience of "Oh yes it does" - "Oh no it doesn't" format also takes place at some point as well as an audience singalong.
Double entendres are rife that go over the heads of the children and are for the adult audience, the script is often only loosely connected to the title which is more of a scaffold for everything to hang on, there is much slapstick, and many topical jokes. Pantomimes may evolve over their run of a month or two or three as the script plays to strengths and even current news events.
Pantomimes start around Christmas and go on into the early new year, they take place in some of the best known London theatres, in provincial theatres around the country and in town and village halls with professional and amateur actors alike. Some very big stars and household names appear in pantomime including occasionally some from Australia and the USA.
The last time I went to a pantomime it was a as a teacher taking a school group on a weekday afternoon, about 75% of the audience were children, most of the rest were elderly people, as a child my grandmother would take me, we both loved it. Pantomimes are for family audiences, they were acting out the stories long before movies and cartoons came along and are still very popular today. If you haven't been, you should go and see what it's all about, you might not become a fan, but you will enjoy the experience at least once.
Where? - Across the country, the larger the place, the more likely you are to find a pantomime.
When? - November to February approx.
---
Pub crawl
visit a few with your mates and get a take-away on the way home

Some pubs are quite close together ...or you may decide that a bit of a walk between pubs is a good thing, some fresh air and a chance to chat away from the noise and atmosphere of the pub
A pub crawl is a drinking excursion where a drink is taken at a pub or bar after which the group move on to another pub or bar, a process which is repeated until the agreed end of the evening or when the pubs shut.
Ideally this takes place with a group of friends, There are "classic" pub crawls going round a set group of pubs in an area, though any that I have ever taken part in have never had that degree of organization involved. You set off with an area in mind and some vague idea of which pubs you'd like to go to, you might go to some and you might go into others on a whim.
The whole idea of a pub crawl is to have a good time with your mates rather than to particularly enjoy the ambience of the pubs, though of course if they add to the atmosphere, then all the better.
Pub crawl tips:
Pick your area, most cities and towns have an area that is particularly well endowed with pubs. You don't really want to be walking too far in between, I'd say quarter of a mile tops to the next pub, preferably less.


Start at the furthest point away and get closer to home or to where you will get your transport home.


Plan something of an itinerary, check out any pubs you've never been to in advance if possible, I have walked into a pub as a group of 6 or more in the past to decide we didn't like it and then walk out again but it is a bit awkward and of course, you now have another walk instead of a drink.


Eat before going out.


Watch the pace, agree one drink at each bar so no-one goes and orders a second just as everyone else wants to leave, it's all about the group activity.


Beer is the best pub crawl drink, I suggest less strong ones especially early in the evening.


Plan to eat something later on, chips, a kebab or similar to eat when walking home works well, this is not a time for healthy, low calorie, superfoods.


If you're buying drinks in rounds (and you should) your own round is a good time to miss a drink if you feel the need, get something non-alcoholic or just have a half if you're flagging.


Pubcrawls are supposed to be fun, they aren't competitions and don't feel the need to drink more than you're comfortable with, then again if two pints is your limit, maybe a pub crawl isn't for you.
If you are travelling and not part of a large group, there are pub crawls that are organized for visitors particularly in London but also some other large cities, Google is your friend here.
Where? - Any town or city, maybe even a mini one in a large village.
When? - Any time.
---
Picture credits: St. Paul's knave - cropped from original - David Iliff. License: CC-BY-SA 3.0 / Albert Hall - Domdomegg - via Wikimedia. License: CC BY 4.0 / Pantomime - cropped from original - Mike Johnson Mikeseye Photographic. License: CC BY-NC-ND 2.0