Eccentric British Events
Britain is a country that accepts, encourages and often praises individuality. It is a reason that so many inventions are British and why British culture and creative arts can be found all across the world, it is also somewhere you can be yourself in dress and behaviour in ways that are not so socially acceptable in some other countries.
Aside from individual eccentricities there are many public events that anyone can join in with or just go along to spectate at what's going on.
---
Morris Dancing - English
The first record of morris dancing is from 1448, it has been recorded all over England. It is a form of folk dance for upwards of two people, though commonly performed by 6 or 8. Like many British traditions there is a very loose framework with endless local variations which means that if you know you will see some morris dancers, you won't know what they will look like or how they will be dancing, but you will recognise it easily as morris when you see them. There are a number of styles of dance though specifics vary from group to group and evolve and change, practice generally takes place indoors in the winter months with performances outdoors from late spring to autumn.
There are teams for men only, women only and mixed, costumes vary enormously though mostly white or mostly black are common, they may be based on traditional local working clothes. The dancers may carry handkerchiefs, sticks that get knocked together as part of the dance or swords (but not sharp ones). Bells are often worn on the lower part of the legs and the dancers may wear hobnailed boots or clogs especially in northern and industrial areas. Various instruments are used to accompany the dancing, fiddles (violins) and accordions are common while percussion is provided by the dancers bells, feet and possibly sticks.
Black face was a tradition and used to be common though is not used any more, other colours, part painting or shapes and patterns are used instead, many groups never had any facial make-up at all.
A traditional northern morris dance
A more modern take on morris dancing
---
---
Cheese Rolling
Cheese is a big thing in Britain, we have over 700 different varieties produced as in indirect result of a climate that facilitates the lush growth of grass which is eaten by cows which produce plenty of milk used as the raw material.
There is an annual cheese rolling event in the village of Brockworth in Gloucestershire known as Cooper's Hill Cheese-Rolling and Wake, it takes place on Spring Bank Holiday Monday, the last Monday in May. It is most probably the world's most dangerous foot race.
---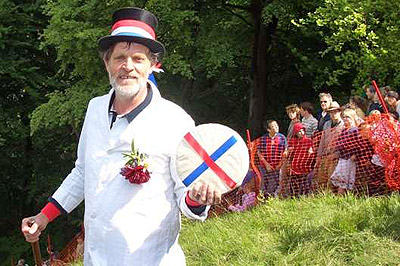 The Cheesemaster holding a Double-Gloucester cheese before the race
---
Cooper's Hill is on the edge of the village and what started as a local event for villagers has become famous attracting competitors and spectators from across the world. A full Double Gloucester cheese weighing 3-4kg is rolled down the hill and people have to try to catch it (it has a 1 second start) or if not (it is virtually never caught) be the first to the bottom of the hill. The course down the hill is 200 yards, at the bottom of the hill are volunteers from the local rugby club and young farmers association who catch the runners as they approach mostly out of control. They also retrieve injured runners of whom there are always some including those who may require hospital treatment.
The history of the event is unclear, it may be a fertility rite over 600 years old, the first written reference is in 1826 by which time it was considered a very old tradition.
In recent years concerns about injuries during the event have led to it becoming "unofficial" so that anyone injured cannot blame the organisers as there aren't any. It still happens though and is just as popular now as it ever was, possibly more so as it is now known globally.
---
Mummers Plays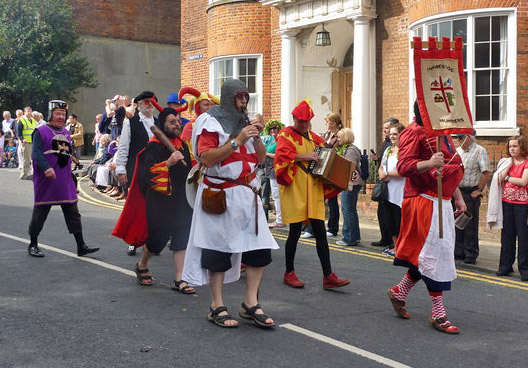 Folk plays performed traditionally by informal groups of mummers travelling between larger houses and/or pubs often at specific holidays such as Christmas, Easter and Plough Monday (the traditional start to the agricultural year in early January). The earliest mention of mummers is from 1296.
Mummers (or guisers) perform the play which often involves St, George, though rarely a dragon.
As with so much in Britain it is more about the idea than the details which can vary according to characters, story, costumes and every other aspect. Though these aspects often remain constant (ish) in particular areas. Mummers may accompany morris dancers.
---
5th of November - Bonfire Night
firework displays across the country
The "Gunpowder Plot" was an attempt to blow up the English parliament on the 5th of November 1605, the date of the annual opening, so killing the King, his queen, and his eldest son. A group of conspirators including a man called Guy Fawkes planted barrels full of gunpowder under the building.
This plot was foiled and the conspirators were captured and killed. The same date the next year the 5th of November 1606 was declared a day of public thanksgiving. Ever since then, this day known as Guy Fawkes Night (or Day), or Bonfire Night has been celebrated with bonfires and fireworks. An effigy of Guy Fawkes may be made and burnt on the bonfire, this is known as the "Guy".
So over 400 years later we still celebrate a failed plot to blow up the King and parliament to do so we have bonfires, fireworks and a representation of a real person. The beginning of November is not exactly peak tourist season and is some time off still for Christmas visitors, so this is a tradition that is relatively little known outside of the UK, especially as unlike some others it hasn't been exported to other Anglophone countries.
There are public firework displays of all sizes while some people set fireworks off and have a bonfire in their garden.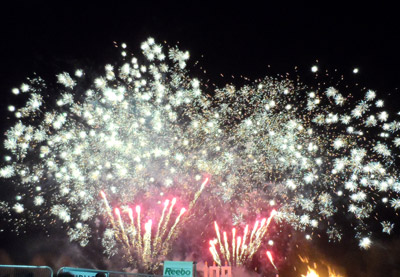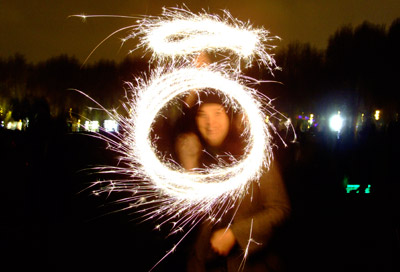 November the 5th - fireworks and bonfires
---
Picture credits: Red costume morris - Simon Burchell under CC4 Att SA Int licence / Women's morris group - Peter Broster under CC3 Att Un licence / Cheese Master - Fourthords under CC3 At SA Unported license / Mummers - pam fray under CC2 Att SA Gen licence / Fireworks - Editor5807 under CC3 Att Un licence / Sparkler - Gaetan Lee under CC2 Att Gen licence
---