Cambridge
Pictures: Cambridge | Punting | Anglesey Abbey | Duxford Air Museum | Wimpole Hall | American Cemetery and Memorial
Find accommodation in Cambridge
The centre of Cambridge is defined by bicycles and buildings made of gently aged stone. It is a flat, small city with extensive pedestrianized areas which makes it easy to get around on foot. The river Cam flows slowly through the middle, its shallow watercourse lends itself perfectly to the art of punting, the gentle pursuit of pushing a shallow, low boat along using a pole against the river bed. You can opt to do this yourself or take a punt with a chauffeur guide who will tell you about your surroundings as you float by.
The university buildings are the architectural stars. The university is made of a number of colleges, many of which are several hundred years old and large impressive structures in their own right. They typically present an elaborate and imposing facade onto the public street, while within the gates are the elegantly proportioned and manicured gardens and rooms where the business of the college takes place. This is a functional and working university (possibly the best in the world) paid visitor access is available to the colleges but, this may be limited during term times.
---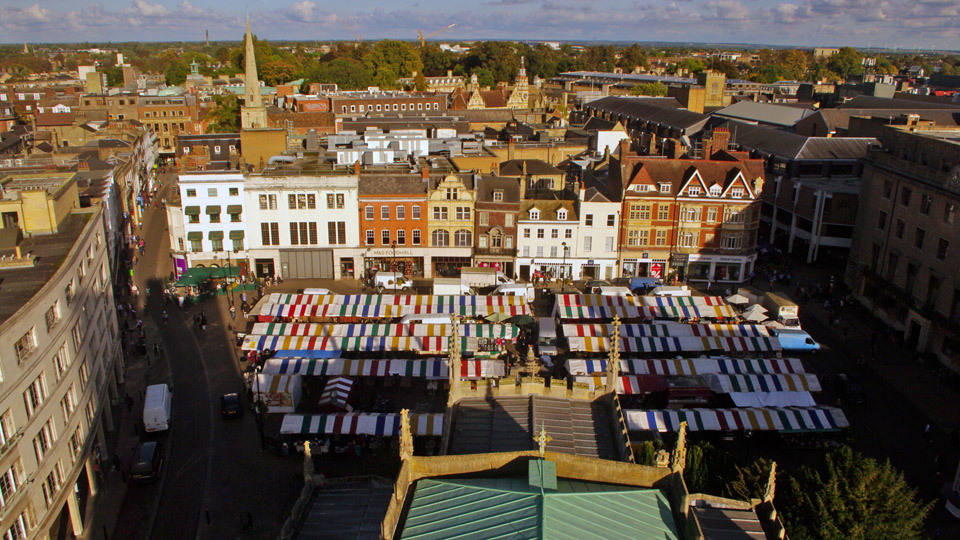 Cambridge Market - The daily market in the middle of the city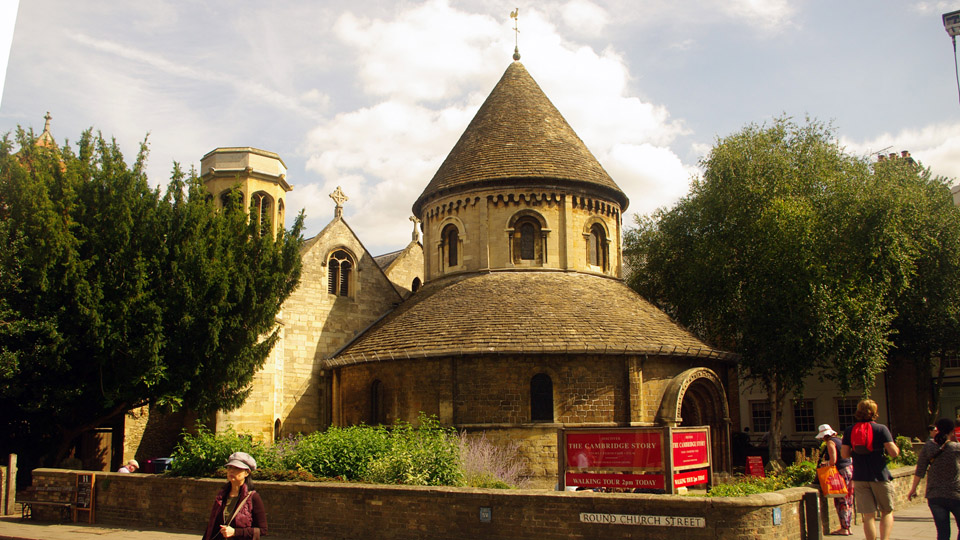 The Round Church - The Church of the Holy Sepulchre, built around 1130 and still in use
King's College Chapel - to the left, offices and accommodation in the lighter building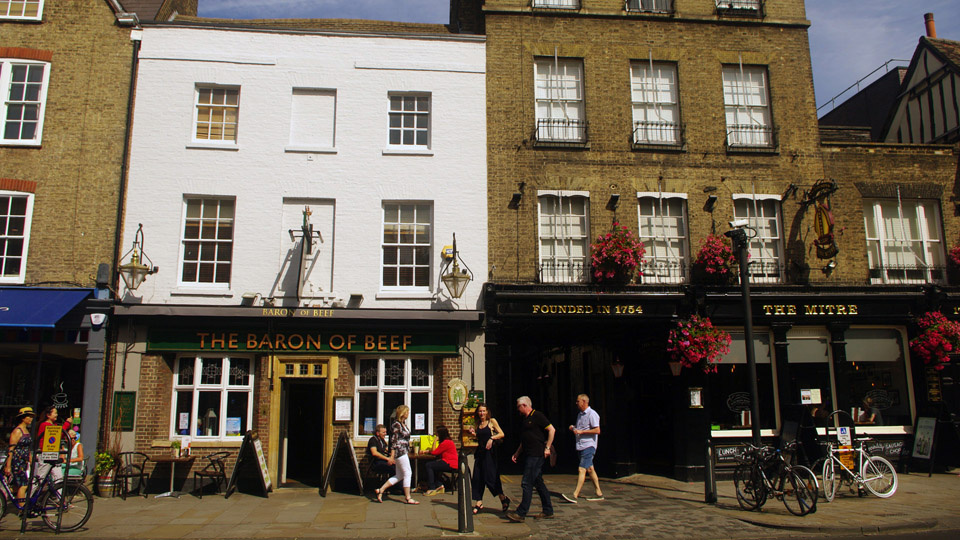 Bridge Street Traditional British pubs - food and drink, rest your feet and watch the world go by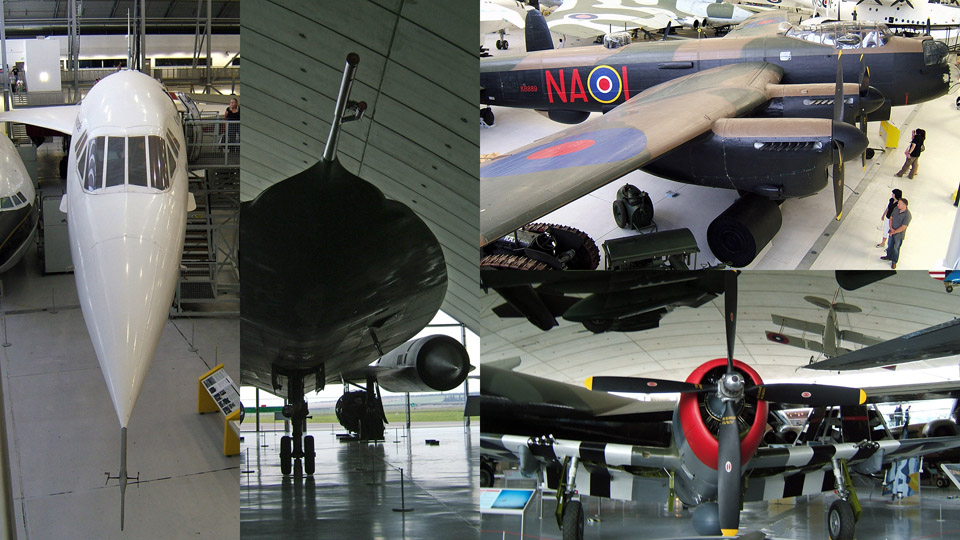 Duxford Air Museum - British and American historic aircraft, a day out for the whole family and enthusiasts too
History
There is archeological evidence of a Bronze Age settlement in Cambridge from about 3,500 years ago. There was an Iron Age settlement on Castle Hill which is where the Romans built a fort in AD70. Later on came Anglo-Saxons, Vikings and then Normans. One of the world's oldest and consistently best universities was founded here in 1209 by students fleeing from hostile townsfolk in Oxford.

The first college, Peterhouse was founded in 1284 and another 15 colleges were founded over the next 300 years. Isaac Newton became Lucasian professor of mathematics here in 1669 and elevated the status of mathematics so setting in place the university's prominence in the sciences that continues today. 110 Cambridge University affiliates have been awarded Nobel Prizes, more than any other institution.

Shopping

Cambridge is a regional hub for shopping, it has a great selection of a whole range of shops. There are quirky small individual shops, chain stores, upmarket clothing retailers in the Grand Arcade and more mainstream retailers in the Grafton Centre.

There's a collection of souvenir shops selling some things you'd never dream of and maybe some things you might want to buy too, in any case they are worth a visit just to gawp and wonder. There's an excellent fresh fudge shop opposite King's College where you will spend far more than you intended to (maybe it's just me) and places to buy Cambridge University t-shirts, sweat-shirts and scarves for you or someone back home.

Food

There is a range of chains and plenty of individual local establishments, there is a fair range of street food in and around the (centrally placed) market and fine dining at a Michelin starred restaurant if your budget stretches that far.

Just off the market place is the Corn Exchange, a theatre and concert venue which is surrounded by a range of eateries and of course many pubs serve lunches and evening meals. There are clusters of low priced to mid-range restaurants on St. Andrews Street towards Parker's Piece and another on Bridge Street towards the punting station and Magdalene Bridge.

Mill Road has a variety of smaller restaurants with an international theme.

The population is generally fairly well off so don't expect bargains, though neither are there any unrealistically expensive "tourist prices" for the quality of food provided. City centre supermarkets can provide picnic ingredients for you to eat on a nearby green while you watch the world pass by if you are on a tighter budget.
---
Where to go in Cambridge

There is plenty of choice of what to do and other people's favourites might not necessarily be yours, here's some to start with, you will no doubt find your own preferences as you wander about. In no particular order:
Visiting the university colleges - I recommend you at least visit King's College Including the Chapel - one of, if not the most impressive of the colleges. Founded in 1441, the world famous chapel was completed in 1515, other colleges are also open to visitors, this is the most popular. St. John's and Queens' are also on my personal list of favourites. The colleges are the working parts of the university and may be closed to visitors at various times, see blue box to the side.
Go Punting - propel the punt yourself, or get a chauffer to do it for you while giving a guided tour to the sites around you. You're still in Cambridge but on a different level and at a different pace. Self hire punts take up to 6 people, chauffeured punts up to 6 or up to 12, take your own food and drink if you wish.
Fitzwilliam Museum - Paintings, ceramics, armour, swords and much more, the region's most popular attraction, a good cafe and gift shop too - free
Polar Museum - at the world renowned Scott Polar Research Institute, follow the stories from the Heroic Age of Antarctica exploration and Franklin's lost expedition to find the Northwest Passage. A multitude of artifacts from Scott, Shackleton and others. You may even see me there if it's on one of my volunteer days. - free
Stay in a room at a Cambridge College - Booking in advance essential, rooms in many college buildings are available old and new, central and more distant, so make sure you know the kind of room you are booking. I've stayed in very old centrally placed colleges which where exactly what I expected from a Cambridge college and more modern, more distant colleges which could have really been anywhere and weren't any cheaper. Central locations don't usually have any car parking but you can leave your car overnight (for a fee) at one of the out of town Park-and-Ride parks and take the bus in.
Guided Tours - There are many guided tours you can take around Cambridge, walking or punting or a bit of each. My favourite was a Halloween ghost tour that started after dark by punt and ended up as a walking tour, I note there are also currently dusk bat-spotting tours by punt, the different themes come and go and change with the seasons. Guides are often current university students, and always expert with a plethora of stories about the building in front of you or the lane up ahead.
Where to go around Cambridge

Grantchester - 2.5 miles from Cambridge - A pretty village with thatched cottages, a medieval church, three pubs and tea gardens, exactly what you imagine a real English village should look like. Readily reached by a pleasant walk through Cambridge and then Grantchester Meadows (you can get a bus back) or even by punt if you are a little more adventurous. It received a tourist boost thanks to the tv series "Grantchester". The three pubs, The Red Lion, The Green Man and The Rupert Brooke, are very popular for weekend lunches with locals so best to book first if you intend to eat there at these times. Better still if it's summer take a picnic and eat it in the meadow by the river.
Imperial War Museum - Duxford - 9 miles from Cambridge - The largest aviation museum in Europe with over 200 aircraft stored in hangers including the American Air Museum with the largest collection of American aircraft outside of the USA. pictures | website
Cambridge American Cemetery - Coton - 3 miles from Cambridge - on the route of the hop on/off tour bus. A moving memorial to the American service men who lost their lives in WW2 - free. pictures | website
Ely Cathedral - Ely - 14 miles from Cambridge - Home to Ely Cathedral, the "Ship of the Fens", so called because it rises from the surrounding flat and somewhat lower land for miles around like a great ship at sea. Building work began around 1083, it is regarded as one of the UK's finest cathedrals (amongst some very stiff competition). Also in Ely, named from the abundance of eels in the area before the surrounding land was drained, is Oliver Cromwell's house and The Old Fire Engine House for a lovely cream tea or full meal if you have the time.