There are a number of dishes that are seen as being quintessentially British, and lots of visitors are keen to try them, what are they like and where can you find them? Most of these dishes are so commonly found across Britain (there are 10,500 fish and chips shop and 8,500 Indian restaurants for example) that specific recommendations are impossible to make, use your smart phone or tablet to assess those nearby.
---
A quick list of British foods you may not be familiar with
Savoury

Bacon Sandwich
- very popular everywhere.
Baked Beans on Toast
- haricot beans in tomato sauce
.
Black Pudding
- oatmeal and blood sausage
.
Bubble and Squeak
- pan fried leftover potatoes and cabbage
.
Cheese on Toast
- cheddar on thick white bread
.
Chip Butty
- a sandwich with chips, (like big French fries).
Cornish pasty
- meat and vegetables in a pastry case
.
Cottage Pie
- minced beef and vegetables in gravy topped with mashed potato
.
Crisps
- deep fried thin potato discs, esoteric flavours.
Crumpets
- thick batter cake, toasted and buttered
.
Curry
- generic term for Indian style spiced food
.
Gravy
- sauce for meat made from meat juices
.
Haggis
- A large sheep offal, mince-like sausage
.
Half and half (rice and chips)
- available at some takeaways with a curry
.
Jellied Eels
- eels boiled, allowed to cool and jellify
.
Kippers
- a smoked whole split herring
.
Marmite
- yeast extract eaten on toast, strongly savoury
.
Meat and Potato Pie
- pie version of a pasty.
Pork Pies
- cold meat pie with hot water crust pastry.
Sage and Onion Stuffing
- accompaniment to roast pork or poultry.
Savoury Pies
- pastry case, meat or vegetable filling
.
Shepherd's Pie
- minced lamb and vegetables in gravy topped with mashed potato
.
Toad in the Hole
- large Yorkshire pudding baked with sausages in the batter
.
Welsh Rarebit
- a cheese sauce on toast.
Drinks

Gin
- undergoing a renaissance at the moment.
Real Ale
- not warm, not cold, 10-12C.
Scotch Whisky
- 126 distilleries, loads of varieties.
Tea
- with milk, always served hot.
---
Sweet treats

Bakewell Tart
- cake with pastry base, jam and almond topping.
Butter Shortbread
- biscuit with butter, short
cake
uses vegetable fat.
Christmas Cake
- a dark, fairly heavy fruitcake.
Hot Cross Buns
- spiced sweet bun with dried fruit.
Mince Pie
- small pastry case with dried fruit and spices
.
Parkin
- a northern gingerbread with oats and black treacle.
Strawberries and cream
- from June to Sept.
---
Desserts

Apple Pie
- pastry case, apple filling
.
Bread and Butter Pudding
- with eggs, milk and, dried fruit.
Christmas pudding
- steamed, dark, heavy, with dried fruit and alcohol.
Fruit Crumble
- stewed fruit with crumbly topping.
Roly Poly Pudding
- like a Swiss roll, steamed or baked.
Spotted Dick
- steamed suet pudding with dried fruit.
Sticky Toffee Pudding
- moist sponge with dates and toffee sauce.
Trifle
- layers of jelly and sponge, custard and cream.
---
Roast Dinner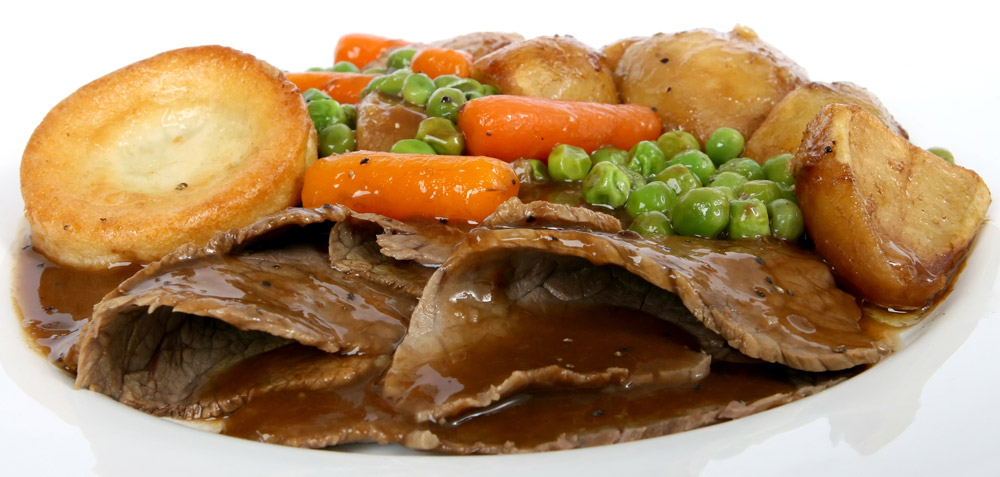 A Roast Beef Dinner - There are endless ways to vary this meal with different ingredients
Clockwise from top left - Yorkshire pudding, steamed peas and baby carrots, roast potatoes, roast beef and lots of gravy. (Don't pour the gravy on the roasted spuds though, it makes them go soggy and you don't want that).
When most people could only afford meat once a week, it would be served traditionally on a Sunday, simply cooked by roasting alongside seasonal roast and/or boiled root vegetables greens and served with gravy. It is therefore also sometimes referred to as a Sunday Roast or Sunday Lunch even if it isn't served on a Sunday, or simply as a Roast.
It usually centres around the meat, beef is most traditional, though pork, lamb, chicken and turkey are also popular. The classic accompaniment to roast beef is Yorkshire puddings cooked in a very hot oven from a simple batter and reckoned by many to be the main event, they are of course wrong as roast potatoes with crispy outsides and fluffy insides are the principle ingredient to a good roast dinner. Roast parsnips might put in an appearance along with roast carrots or almost anything the cook has or is able to roast competently. Boiled or steamed green vegetables such as broccoli, peas, cabbage, cauliflower or beans may also be served, there are normally some roasted and some steamed vegetables, the range of things that may turn up is huge and is seasonally influenced.
Cauliflower or leeks with a cheese sauce is another common addition. There are particular traditional accompaniments with each kind of meat, stuffing with pork, chicken or turkey, apple sauce with pork, horseradish or mustard with beef, mint sauce with lamb, bread sauce with chicken or turkey, Yorkshire puddings may be served with anything not just beef, there is always gravy.
It may seem that a roast is by definition not for vegetarians, though there are so many other ingredients available that it is often popular with them too.
Where to get a Roast Dinner in Britain: Roasts often appear on restaurant menus, though usually quite defined in terms of ingredients and often just the one kind of meat. Many pubs will serve a Sunday Lunch with a range of roasted meats and a wide range of vegetables and other accompaniments in a buffet style for less cost than the normal menu, this is may be referred to as a "carvery".
---
Full English Breakfast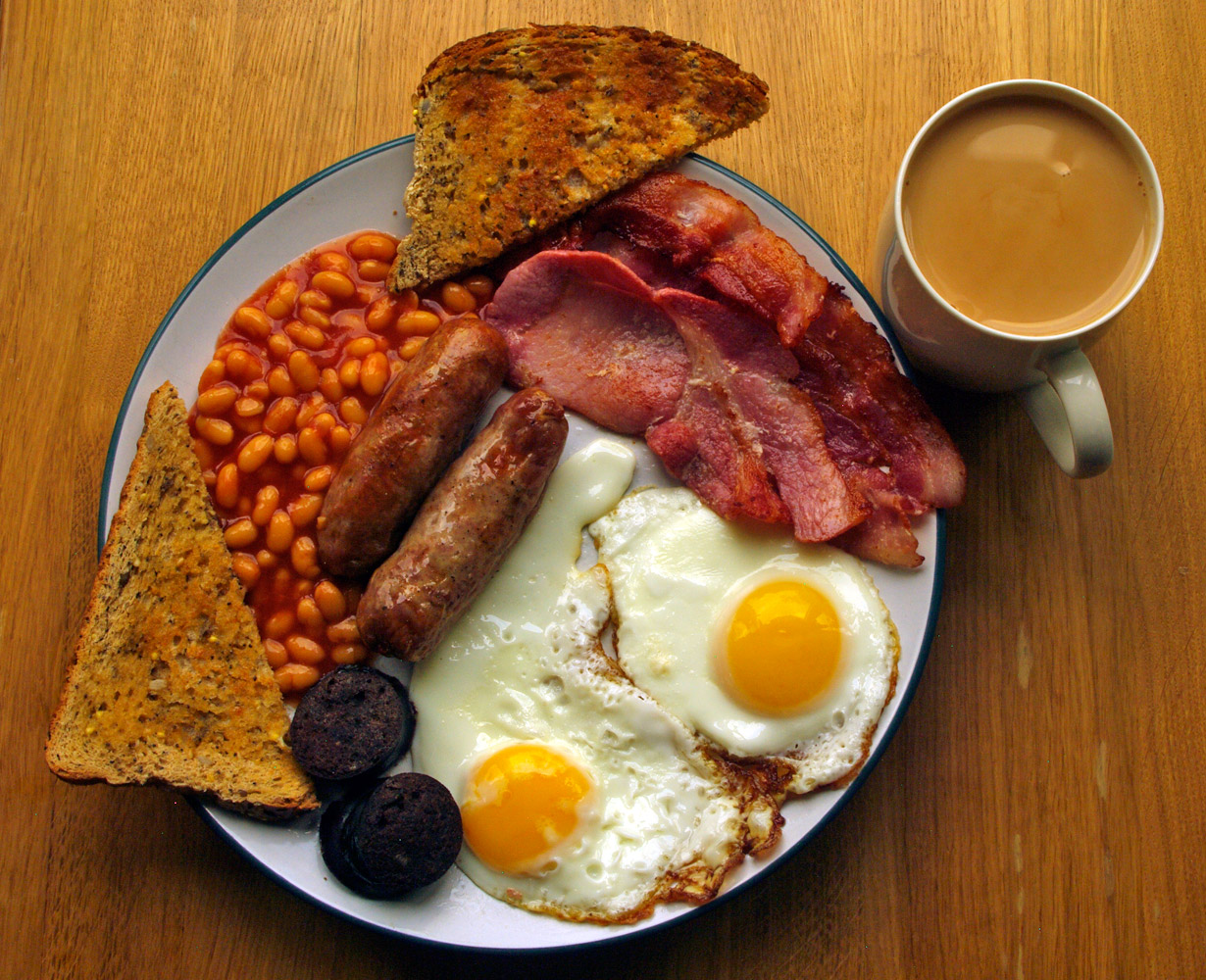 One of many versions of the Full English Breakfast
Clockwise from top, toast, bacon, fried eggs, black pudding, sausages, beans.
This is seen by many British people as an occasional treat, a weekend or holiday cooked breakfast that takes time to prepare and is often very substantial. It is variable in ingredients an also it's size, it doesn't have to be a substantial meal but often ends up that way because there are so many tempting ingredients that go so well together.
It is a great mix and match meal, at its most basic it consists of bacon and eggs only, most often there is also a sausage or two and bread in some form. Beyond this the are all sorts of things that can be added, the choice is entirely yours and everyone has their own preferences without consensus as to what is best. Black pudding (the star of the show imho) and tomatoes are usual with baked beans frequently appearing along with some form of fried potatoes. Preparing the meal is a question of timing so the ingredients are are all ready together rather than of skillful cookery, the quality of the ingredients is very important as there is no where to hide, they are best sourced locally.
Vegetarian sausages may be available for those who prefer, the Full English isn't even necessarily a meat dish.
Where to get a Full English breakfast in Britain: This will be a breakfast choice that you will almost inevitably be offered as an option at your hotel, guest house or bed and breakfast. It is also available at many cafes and eateries across the country, usually up to about 11am but sometimes up to late afternoon as an "all day breakfast".
More on the Full English breakfast
---
Fish and Chips
Fish and Chips - Straight from the chip shop, white fish deep fried with chips, lots of salt and vinegar, brown or red sauce is usually available or mayonnaise (there's posh), in restaurants there will usually be peas and tartare sauce (there's posher).
Originally a working class inexpensive treat with fish provided from the North Sea and delivered inland while still fresh by the railways as they developed in the second half of the 19th century. The chips are made from potatoes that grow very well in the British climate.
The chips are bigger than French fries, they are cut directly from potatoes and not so crispy. The fish is almost always white fish, either cod or haddock dipped in batter and deep fried, the fish cooks by steaming inside the batter which becomes very crispy. It may be served with mushy peas (or ordinary peas if in a sit-down restaurant) and lots of salt and vinegar, if the server in a chip shop asks if you want salt and vinegar expect far more than you were anticipating. Fish and chips used to be sold wrapped in an outer layer of newspaper, but this stopped by and large by the late 1980's not as a result of any particular law, but of general food safety and hygiene regulations.
There are currently around 10,500 fish and chip shops in the UK, they use 10% of all potatoes consumed and 30% of all white fish. Often called the chip-shop, the chippy or the chipper, they also sell other foods on the same theme such as meat pies, large sausages, fried chicken etc.
Restaurants may also often serve fish and chips, sometimes they are "posh" (they may be called this or similar on the menu) which is a more cheffy take on the takeaway classic and may require you dismantle the presentation before being able to eat it.
Where to get Fish and Chips in Britain: You can get good fish and chips at a whole range of chip-shops, cafes, restaurants and take-aways across Britain. I have had good fish and chips in restaurants, in fact going to eat at a pub about a mile away provides better than comes from the drive into town to get a take-away as like any crispy fried food they go a bit soggy when transported wrapped up.
For the best fish and chip experience you should go to the sea-side, get them "open" out of the chippy and eat them while looking out to sea, being wary of chip-stealing sea gulls. If you have them as a sit down meal, have a mug of tea with them, it cuts through the grease perfectly, as does the vinegar.
Don't get them from anywhere that is in a tourist trap, especially if there is a Union Flag in the window and avoid the ones that are like every takeaway rolled into one, pizza, kebab, burgers, fish and chips etc.
---
Afternoon Tea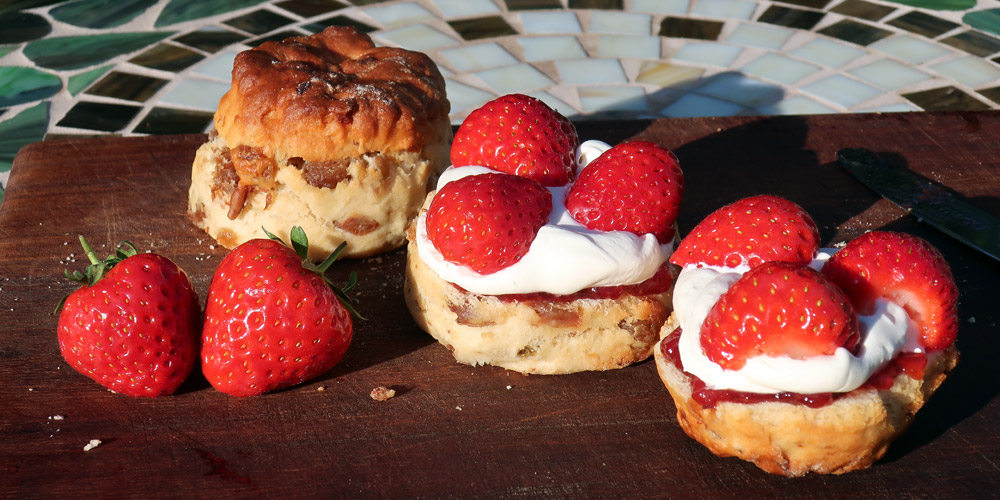 Strawberry Scones - A summer tea-time treat with fresh British strawberries, whipped cream and strawberry jam, here on top of a sultana scone, serve with tea.
Probably seen as far more quintessentially English by outsiders than by the English themselves, it is specifically English more than British, though is available across the UK. The practice is an upper class institution originating in the early 1800's, working folk were far too busy to stop work in the mid afternoon and couldn't afford all the equipment and food anyway. It is not a common occurrence amongst the British, though is a nice afternoon event for a celebration or just an enjoyable and indulgent time to spend with friends or family in quiet surroundings if it appeals to you.
There are essentially two "courses", though they aren't really referred to as that, a savoury course and a sweet course. It is perfectly possible to get tea at a tea room with just one of these "courses". Initially there will be delicate finger sandwiches and possibly other small tasty savoury foods such as quiche, pastries etc. and then to follow, the sweet course of cakes, scones and possibly sweet pastries. These may be served at the same time on a tiered stand for you to work through at your own pace without interruption. It will be accompanied by tea, hot tea with milk by default, lemon will be available on request and there will most likely be a selection of teas including fruit and herbal. You could have coffee instead, though it's not afternoon tea then.
Afternoon tea is by its nature a rather genteel affair, it can be taken at small tearooms across the land or for a special treat at one of the grand London hotels that have adopted the practice as something of a specialty. A simple tea at a tea room will be £10-£20 per person and at a more formal hotel in the region of £50-£80 with possibly champagne or a cocktail as well and the requirement to dress somewhat formally or at least not to be too dressed down. There is not a great amount of food served, this is intended to be a rather light meal, instead the emphasis is on the quality and presentation of many small treats.
Where to get Afternoon Tea in Britain: If a grand hotel is not your thing or is beyond your budget, there is little to beat a tea room with a country style garden, or a scenic country or sea view in the summer months. Stately homes such as those run by the National Trust, English Heritage and Scottish Heritage often have tea rooms with delightful settings as do many of those that are privately run. Scones with cream, jam and preferably fresh British strawberries complete the experience, for me at least, in fact I usually just have these and don't bother with the sandwiches.
---
British Style Curry
British Style Curry at an Indian Restaurant - Top left, the individual dishes are brought to the table in their own serving bowls, clockwise - an okra side dish, a chicken curry with sauce, a tandoori chicken leg
Britain has a long history with India as a result of the empire, the first Indian restaurant was opened in Britain in 1810 and today about a fifth of all restaurant business in Britain is accounted for by what are sometimes colloquially known as "curry houses". Indian food adapted for the British palate is the spicy food of choice far above any competitors such as Thai or Mexican. Most "Indian" restaurants in the UK are run by Bangladeshis or Pakistanis.
The names of the dishes available are sometimes the same or similar to those found in India, though the recipes may differ markedly, there are also some dishes that are British developed by chefs who came from the Indian sub-continent, notably Baltis which originated in Birmingham. Curry is most definitely on the list of British national dishes.
There are dishes that are nearly always found all restaurants and for a reason I have never discovered, every single Indian restaurant I have even been to has at least one name of a dish on the menu I have never seen before and will never see again.
If you haven't eaten this style of food before, ask for a little guidance, particularly in relation to how spicy or otherwise you like your food, also if you'd prefer a dry or wet curry with sauce or not. Typically a main meal consists of a meat dish with rice and/or bread (get one each and share the other, e.g a naan bread or roti each plus a shared rice) and possibly a vegetable side dish. If you are unsure if you can cope with the spiciness, a raita (yogurt dish) will help calm it down. There are usually lots of purely vegetarian options too. The food is brought on a collection of serving plates and each person has their plate to eat from, so Indian meals lend themselves ideally to sharing of the different dishes which helps a lot when you aren't so sure what it is you will be getting.
Where to get a British Style Curry in Britain: There are Indian restaurants in every town and city and many villages, so finding one is not difficult. If going somewhere new I look for "Tandoori" in the name or description which signifies that the restaurant has a Tandoor, a vertical clay-lined oven which is used to cook meat on skewers, but more importantly produces the best naan and roti breads.
You may see various curries on the menu in many other kinds of restaurant, particularly pubs, don't be tempted, they are nowhere near as good as the versions you will get at an actual Indian restaurant.
---
Pie and Mash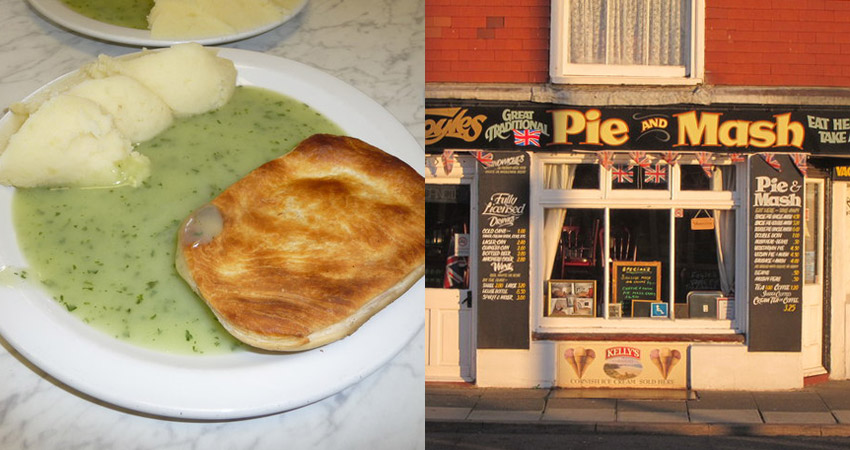 As an Englishman but not a Londoner, the inclusion of pie and mash here feels a little out of place, I include it as many visitors from overseas express an intention or interest in trying it. It is not a common dish in the UK, being associated with east and south London. It is a working class food traditionally served at Pie, Mash and Eel Shops, "shops" is a misnomer, they are small cheap restaurants where you sit and eat the food at tables.
The pies are meat pies with a pastry case and stewed filling in a thick gravy, the mash is mashed potato. It is often served with a kind of parsley sauce called "liquor" (there is nothing alcoholic about it), traditionally the liquor is made using water that has been used to stew the eels that are also sold by such shops, this is less common these days however and gravy may be served instead.
Jellied eels are chopped sections of eel boiled in a stock that is left to cool and form a jelly, they are eaten cold. In the historic past, from the 1700's the European eel which was very common in the river Thames was a very popular food for the poor.
There are some foods that are classic "peasant cookery" from all around the world that are timeless classics and then there are other foods that are eaten because they are cheap and when there's not much alternative. Alas, pie, mash and eels falls mainly into this latter category. Pies themselves can be really good and are very popular throughout Britain, while mashed potato is a splendid accompaniment to many meals, its soft carbohydrate next to pastry made soggy by that liquor isn't a good combination. As for jellied eels, there's a good reason that they were never very popular beyond those places where they were historically eaten by those who had little choice, and even where they are still eaten they are falling in popularity, "muddy" is a common word used to describe the taste and there are many small bones.
By all means take an interest in this culinary curio, but be aware there are so many better alternatives these days, especially if you don't have the nostalgia that seems to be necessary to enjoy this dish at its best.
Where to get Pie and Mash in Britain: Head to the East End of London where there are a dozen or so such shops still, some of them are family run and have been for several generations.
Pies - Savoury. A savoury pie on the other hand is a thing of joy and the British have a real love of them in myriad forms that is unmatched. Pies are available and appreciated almost anywhere, railway stations, the high street, football matches, chip shops and in all restaurants from the humblest to the fanciest.
Some are served hot as part of a main meal, others such as the noble Pork Pie can be eaten cold or hot, whereas the Cornish Pasty is an institution on its own. Try them, you are unlikely to be disappointed whether it is meat or vegetarian, there are endless choices.
---
Picture credits: Roast dinner - courtesy Robert Owen Wahl / Fish and chips - courtesy Carl Ratcliffe, Mia O / Curry - courtesy Sat Singh / these pictures also courtesy FreeImages.
Pie and mash - courtesy Jeremy Bolwell used under Creative Commons Attribution-Share Alike 2.0 Generic license. / Shop front - courtesy Oast House Archive used under Creative Commons Attribution-Share Alike 2.0 Generic license.