Where to Buy Souvenirs of Britain
Buying mementoes of a trip to another country with their strange and interesting foreignness is always a popular part of travelling. Whether for yourself as a treat or reminder, or as gifts for those who might appreciate a little something from a different country and culture. I'm not going to tell you what to get, but point you in the direction of places to go.
---
Gift shops v other shops

left - National gallery, right - National Trust, both great places to buy less commonly found souvenirs
Gift shops aimed at tourists are always something of a world of their own, full of things that represent a country, though not actually things that those living there own or would buy.
I suggest you avoid the High Street generalist gift shops as they are over-priced and don't sell much of any practical use that's going to last very long at all. They are good for somewhat cheesy souvenirs which have their own place, don't get food from there though.
Here's some ideas for places to go to buy gifts with a bit more longevity and even usefulness, I find it does take a bit of a mindset change to plan to get souvenirs from such places and not have a present-shopping trip on your last day, spread it through your visit and you'll be able to do something more interesting on that last day instead. Not that I'm saying you shouldn't get a Queen Elizabeth bobble-head or union jack cushion if you fancy one, cheesiness can be fun too.
---
Famous Shops - Fortnum and Mason, food hall - Harrods - London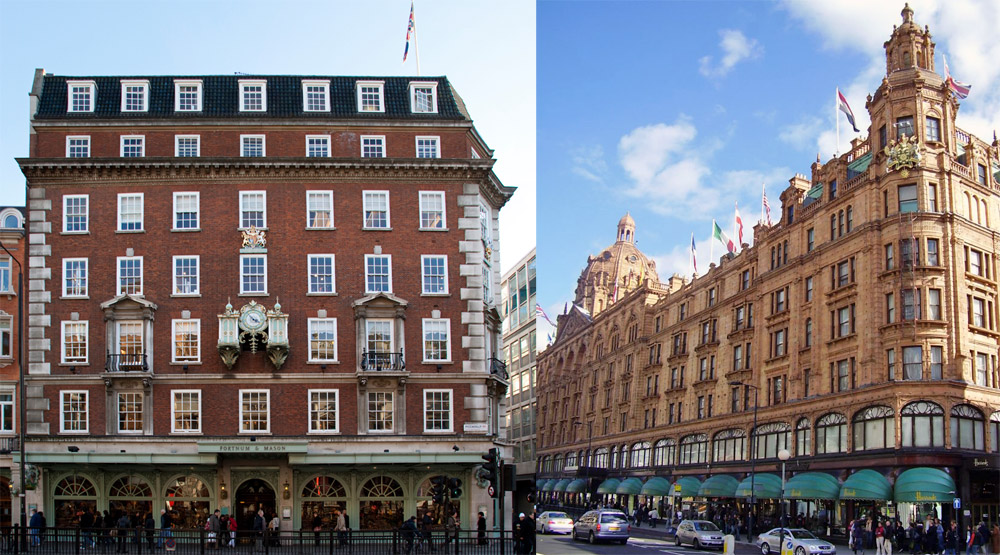 Left, Fortnum & Mason, Right, Harrods
Fortnum and Mason has a reputation for supplying very high quality food and drink, and an equal reputation for supplying it at high prices. It's the sort of place where you shop if food costs are such a trivial amount of your income that you don't notice that you're paying well over the rate elsewhere for many items. It is a fascinating place to visit, almost a living museum as well as a very well stocked large shop across six floors with several restaurants, it is a good place to go for high tea or a cream tea.
Personally I rate it more as a place to visit than as a place to buy souvenirs from, though many of things you can buy have "Fortnum and Mason" on the high-end packaging which you may think is itself a reason to buy souvenirs from there. There are many food programmes on British tv and many comparative analyses of "what is the best food we're testing today" with a range of products at various price points. Fortnum and Mason often figure in these, though I can't recall them ever coming top in anything other than price. They tend to do ok, but cost more than those than come above them in the taste tests. If it's better value for money and better tasting quality food you want, go to Waitrose or Mark's and Spencer - both of whom have many stores across the country and not just in London.
Harrods similar to Fortnum and Mason, but larger and with a wider range of goods. If you can afford to buy a lot of things in Harrods, you probably aren't going to be looking online for where to buy the best souvenirs from in Britain. For most people, more of a place to visit for the experience than to shop at. Even carrier bags with the name on cost £10-£40.
---
Well known chain stores for souvenirs - countrywide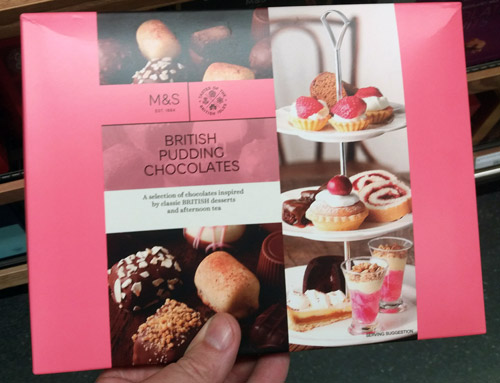 There are some ordinary shops that sell souvenirs and in particular things with the Union Flag (often incorrectly called the Union Jack) on which can be cheaper and better quality than tourist gift shops. Their ranges change over time and with the time of year or if any significant national events are taking place, but it's worth a look to see what they have.
They also sell generally good quality goods, so if the exchange rate moves in your favour, could be worth a look for almost anything you need.
John Lewis - a somewhat upmarket department store with 330 branches nationwide.

Marks and Spencer - a department store that focuses on food and clothing with home wares too. Some overseas visitors stock up on underwear here apparently, over 1,000 shops of which just over 600 only sell food.

Primark - a discount fashion chain with 188 branches across the UK and nearly 200 in Europe and the USA. Their ranges change regularly.

Sports Direct - a discount sports store with around 600 branches in the UK, a good place for football shirts of English teams and some international teams too. Included here because for reasons I don't understand the shop in my local city (Cambridge) always attracts a large number of visiting teenage language students in the summer months, though I'm not sure what they are buying.
---
Ordnance Survey Maps

The Ordnance Survey has been mapping Great Britain since 1791 in great detail on large paper maps (and now of course digitally) of the whole country that you can readily purchase. The maps are colourful and beautiful with landmarks, contour lines and every feature larger than a few yards marked on them.
Wherever you are in Britain you should be able to buy a map of the local area from a bookshop, museum or similar, if you are in a National Park, then more detailed and more colourful maps will be available, like the one in the picture above of part of the Lake District. When arriving home you could buy a large picture frame and then cut or fold the map to centre on a particular place or feature as a reminder.
You can even buy custom maps centered on any point you choose, enter the postcode and choose "Custom Made" here.
---
National Trust, English Heritage and Historic Scotland shops - countrywide

These organizations run many historic sites across the UK, including Stonehenge, Edinburgh Castle, the Giant's Causeway, along with many castles, stately homes, and relics. There are about 200 National Trust shops at their sites, over 100 at English Heritage venues and 50 at Historic Scotland sites.
The shops carry a range of goods with a heritage theme that are common across all shops and then will have more local goods and maybe some those themed on the venue itself. The items they sell are what British visitors who make up the large majority of to those sites will buy, and are less aimed at overseas tourists, i.e. more authentic, (possibly) less cheesy. A lot of the things they sell are redolent of the British countryside, we regularly buy gifts for friends and family when we visit National Trust properties using our annual memberships.
---
Museum shops - London and countrywide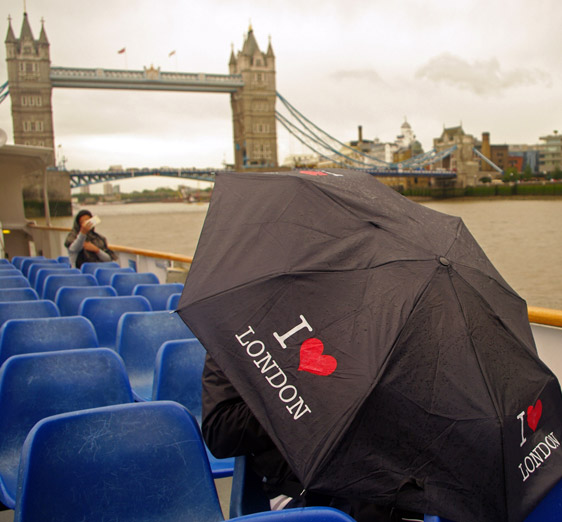 Museum shops have a load of items themed on their most popular exhibits and those that lend themselves to souvenirs. The large free museums in London all have well stocked shops according to their theme, it's far from all pencils, erasers and rulers,
You can get fashion clothing, jewelry and prints based on some of the world's greatest designs at the Victoria and Albert design museum, educational and stunning household items from the Science museum, Items carrying pictures of some of the world's greatest works of art from the National Gallery, images and models from the natural world including dinosaurs from the Natural History museum. The British Museum (history of mankind) carries sculptures and images including the Rosetta Stone and Parthenon sculptures while the Tate Modern has several shops with modern art books, prints and home wares. All of these (and more) are free to enter so you can go to the shop without needing to pay to enter the museum.
---
Harry Potter Shop - Platform 9¾ London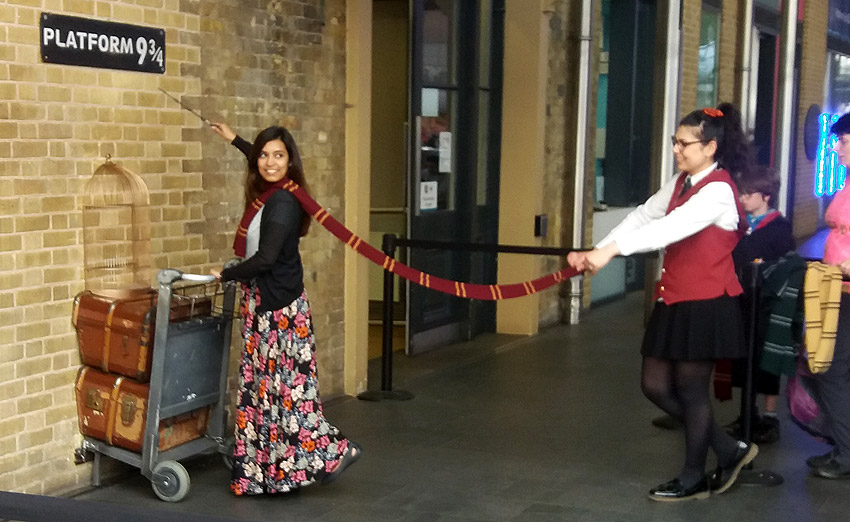 At Kings Cross Station in London, a world of wizardy clothing in house colours, as many magic wands as you could ever need. Toys and more of anything and almost everything from the wizarding world. Bound to be received better than a tin of tea shaped like a phone box by the Harry Potter fan.
---
Buckingham Palace Shop - London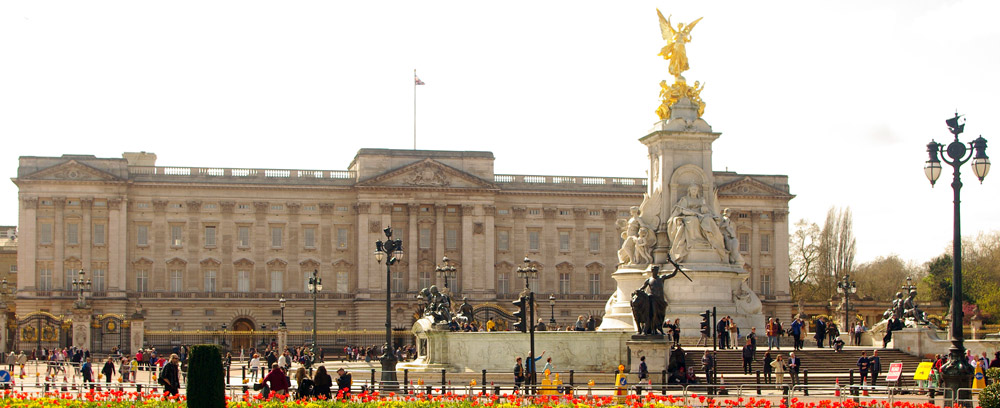 China. books, home wares, jewelry etc. with a royal theme. There are budget and more expensive items, there are collections commemorating royal events such as births, weddings, anniversaries etc. Very British and very royal. The shop is open at the palace for 10 weeks in the summer from late July when the state rooms are open (pay to enter), there is an online shop that ships internationally year round.
---
Bicester Village - Oxfordshire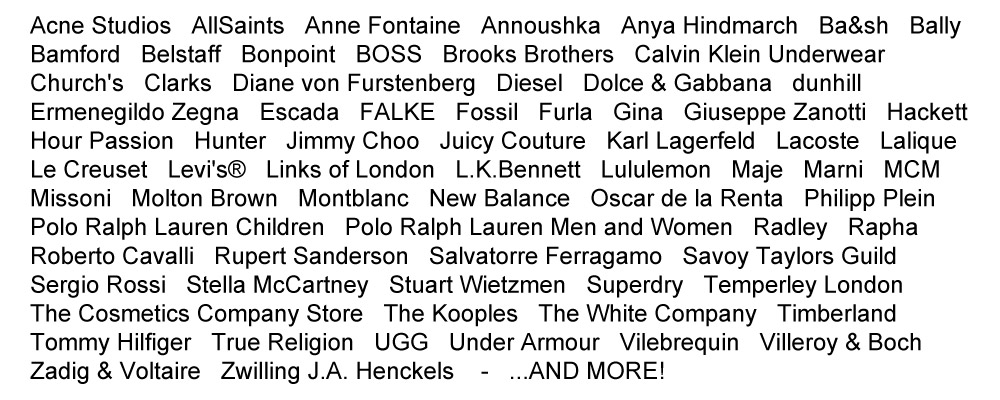 If you're serious about big brand shopping in the UK, there is a
designer shopping village
which consists of about 160 stores belonging to world famous brands and with many discounts across the ranges. They are very used to receiving overseas shoppers and can readily arrange the paperwork for tax refunds (in the range of 9-14%) for visitors from outside of the EU. It is situated about an hour from London north of Oxford and so can fit in with a trip to the Cotswolds, Oxford, Stratford upon Avon, the West Midlands and on to Wales or isn't too far for a day trip from London.
---
Picture credits: Fortnum and Mason - Tony Hisgett from Birmingham, UK - used under CC BY 2.0 licence / Harrods - Africaspotter - used under CC BY-SA 3.0 licence