The British Countryside
Britain is expert at the art of countryside, much of the landscape has been under the custody and husbandry of the people for hundreds or thousands of years. Gentle rolling hills with neatly divided fields separated by stone walls or hedges that themselves can be several hundred years old, some going back to the Romans or the iron age.
Nestled in valley bottoms are villages and towns, connected with each other via a transport network with easy access options. The patriotic hymn Jerusalem refers to this "green and pleasant land" and almost wherever you go, green is the overwhelmingly prevalent colour. Only 5.9% of the land is built on, it may seem more than this if you spend your time in towns an cities, but the great majority of the UK is farmland and countryside.
There is something for every visitor, natural landscapes such as the Giant's Causeway in Northern Ireland to mountains in Snowdonia in Wales, the English Lake District and the Scottish Highlands. There is over 7,700 miles (12,400 km) of coastline and the furthest you can get from the sea is just 70 miles, Britain's island status and maritime history figure highly in its history and the national psyche.
---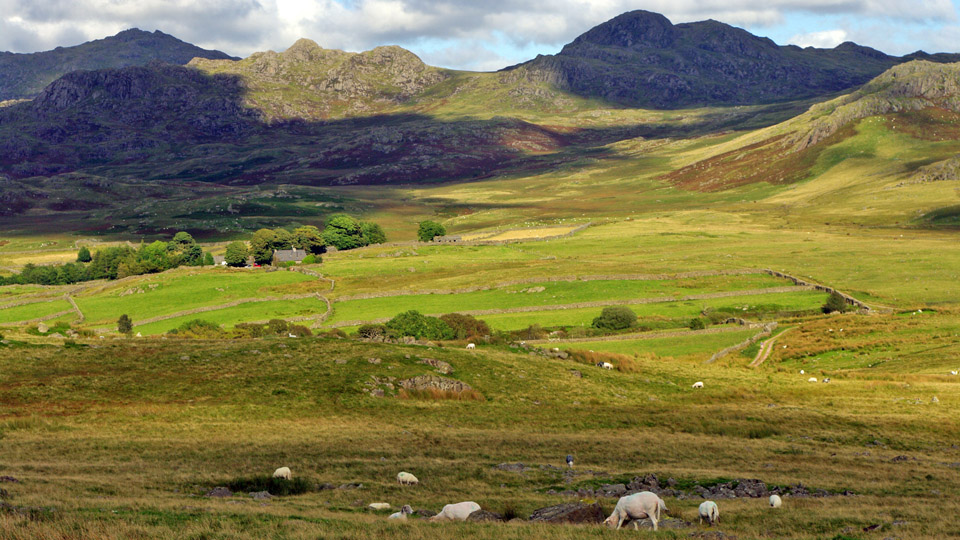 The Lake District - A National Park in the North West of England, an area of upland hills (called fells here) and lakes with rough pasture for sheep.
---
You are never far from the countryside in Britain.
If you don't have your own transport, then trains or buses will take you out from built up areas and it won't take too long to get to a nearby rural area and make for an easy and relatively cheap day out. It is now easier than ever to find nearby country towns and villages to visit and to find a walk across the fields or through the woods once you are there.
You won't need much equipment, a comfortable pair of walking boots or shoes, a small backpack and a waterproof (this is Britain!), sunscreen too if it's summer. With a little planning you can arrange to break-up or end your walk with a pub or cafe lunch.
Where to go?
A list of places recommended by people I know who live in Britain of their favourite places to visit in Britain, so it's biased by who I know and their preferences, these places are either in the countryside or are towns surrounded very closely by countryside. The National Parks are also great places to enjoy the British outdoors.
AONB - Area of Outstanding Natural Beauty
The Weald - Tenterden - A country town in deepest Kent - the "garden of England".
National Park
South Downs - Heathland, river valleys, rolling hills.
---
Avebury, Wiltshire - Prehistoric stone circle in a small village, a World Heritage Site. Nearby Silbury Hill (130ft) is the largest artificial mound in Europe built about 4,600 years ago.
Boscastle, Cornwall - Fishing village.
Brendon Hills, West Somerset - Part of the Exmoor National Park,
Burton Bradstock, Dorset - Village about 1/2 mile inland, Jurassic Coast, sea-cliffs and beaches.
Broadway, Worcestershire - The "Jewel of the Cotswolds", also lots of nearby towns and villages.
Clovelly, Devon - Picturesque fishing village, cobbled streets and no vehicles, pay to enter.
Dorset coast - Charmouth, Lyme Regis, Jurassic Coast World Heritage Site, fossil hunting, coastal path, sea-cliffs and beaches,
Lostwithiel, Cornwall - Small town amongst countryside on the Fowey river.
Perranporth, Cornwall - Seaside resort town on the north coast, beach, coastal path.
Quantock Hills, Somerset - AONB, coastal views, heathland and valleys, more.
St Michael's Mount, Cornwall - A rocky island with a medieval church and castle 1/2 mile off shore along a causeway (accessible at low tide only) near Penzance.
Topsham, Devon - Historic former shipbuilding centre on edge of the city of Exeter, nearby nature reserves with wading and migratory birds.
National Parks
Dartmoor - Wild moorlands, river valleys.
Exmoor - Sea cliffs, river valleys, high moors.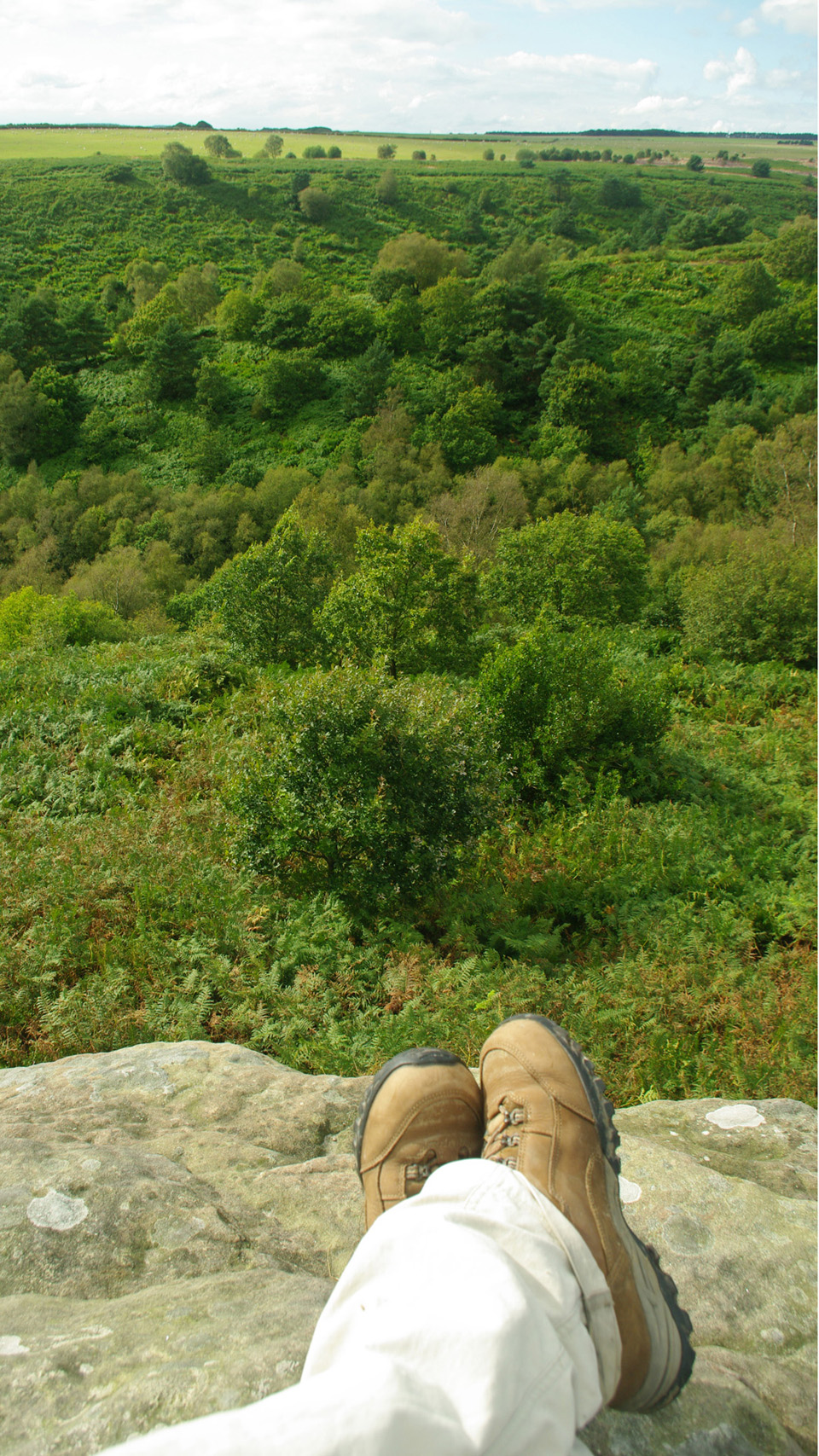 A comfortable pair of walking boots or shoes allows you to get into the countryside. If walking sin't your thing, there are lots of country towns and villages to spend a relaxed day in.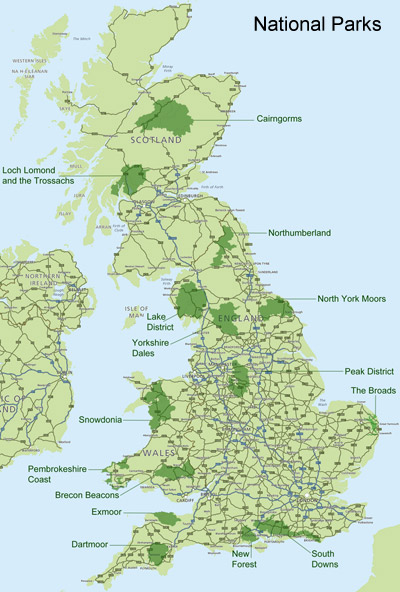 Britains National Parks
click here for largest map
Google Map
See where these places are

Cornwall - The most south western county in England, Cornwall is very popular with tourists particularly for its very long, rugged and picturesque coastline with plenty of sandy beaches too.
---
Hayling Island, Hampshire - A seaside holiday area with miles of unspoilt beaches and nearby countryside.
Isle of Wight - An island off the south coast, famous for its scenery especially coastal.
National Parks
New Forest - Unenclosed pasture, heathland and forest.
South Downs - Heathland, river valleys, rolling hills.
---
Church Stretton, Shropshire - Market town surrounded by wild uplands and calmer valleys, the site of ancient settlements.
Ludlow, Shropshire - Medieval market town with a castle and a number of festivals and events surrounded by beautiful countryside.
Malvern Hills, Worcestershire - Walks from Malvern (town) with CS Lewis are what inspired Tolkien for "The Shire" in The Hobbit and The Lord of the Rings.
Severn Valley Railway, Shropshire and Worcestershire - 16 mile long heritage railway from Bridgnorth to Kidderminster, see the countryside the easy way.
---
Sandringham, Norfolk - One of the Queen's royal residences open to visitors from April to October, an extensive private estate.
Southwold, Suffolk - A quintessentially English seaside resort town with coastal walks.
Woodbridge, Suffolk - Historic riverside town 8 miles from the sea next to an AONB and near to Sutton Hoo Saxon burial sites.
Wells Next the Sea, Norfolk - Part of the North Norfolk Coast AONB, sand dunes, beaches, marshes, extensive birdlife, visit Blakeney and Cley too if you're there.
Wicken Fen, Cambridgeshire - A remnant of the 99.9% of former fenland that has now been replaced by arable farms and indicative of how impenetrable this land (marsh) was in the past.
Winterton on Sea, Norfolk - Beaches and extensive sand dunes, on the edge of the Norfolk Broads, dog friendly.
National Park
The Broads, Norfolk. An area of rivers and inland waterways, a boating destination, but also for ramblers, artists, anglers and birdwatchers.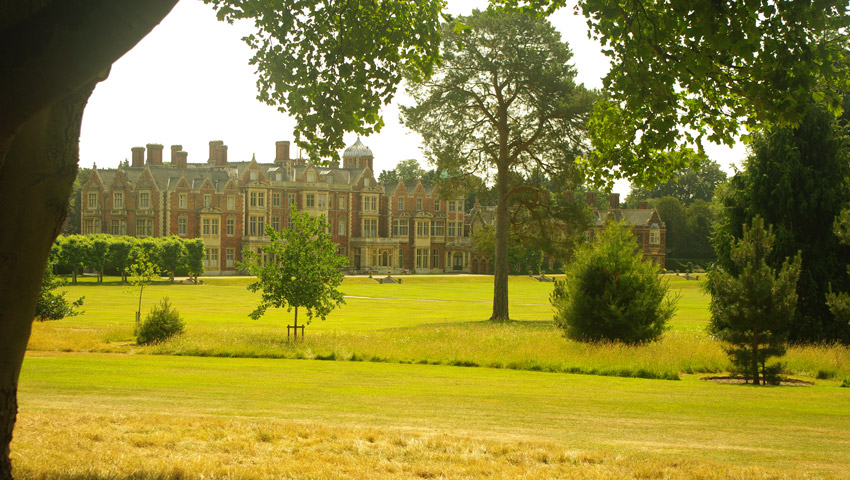 Country Houses, this is Sandringham in Norfolk - A privately owned country estate and residence of the Queen. Visitors can tour the house, a museum and the extensive gardens from April to October.


The last surviving drainage windpump in the Cambridgeshire Fens - The Fens are an extensive low-lying area in the East of England which were marshy until drainage began several centuries ago. Man made rivers, channels, and later on thousands of these wind driven water pumps were used to bring the land into agricultural use, it now has about half of all the highest grade farmland in Britain.
---
National Parks
Peak District - Limestone in the south, river valleys and more gentle landscapes, gritstone and moors in the north, higher hills and wilder country.
Lake District - The deepest lakes and highest mountains in England with woods, forests and coast, literary connections with poets.

The Lake District national park hills, mountains and lakes.
---
Bamburgh, Northumberland - A coastal 1,000 year old castle/hotel in an AONB, close to Holy Island and Lindisfarne.
Vindolanda Roman Fort, Northumberland - Hadrian's Wall, footpaths in the area.
National Park
Northumberland - Cheviot hills, rolling moorland, Kielder forest and Hadrian's wall, history and landscape. The least populated and visited of the National Parks.
---
Appletreewick, Yorkshire Dales - A small village in Wharfdale, historic houses and not too strenuous walking.
Buttertubs Pass, Yorkshire Dales - A high moorland pass between Wensleydale and Swaledale with great views of surrounding valleys and hills.
Castle Howard, 15 miles north of York - A stately home with extensive gardens and park. The fictional "Brideshead" in films.
Howarth - A large village in the Pennines where the Bronte sisters lived, walks outside of the village, Bronte museum and a heritage steam railway.
Malham Cove, Yorkshire Dales - A large curved limestone formation 0.6 of a mile from Malham village, impressive scenery and views.
Wensleydale, Yorkshire Dales - Walks around the dale, Bolton Castle ruin, famous for Wenslydale cheese.
Wharfedale, Yorkshire Dales - A 50 miles long valley, incudes several towns and Ilkley Moor (don't forget your 'at), many opportunities for easy or rugged walks.
The Yorkshire Wolds - Low hills in east Yorkshire, at Flamborough Head chalk cliffs drop 430 feet (130m) to the North Sea,
National Parks
North York Moors - North East, upland area with huge expanses of heather, deep valleys with woodland, sea cliffs on the coast.
Yorkshire Dales - Upland area of the Pennines with river valleys, limestone caves.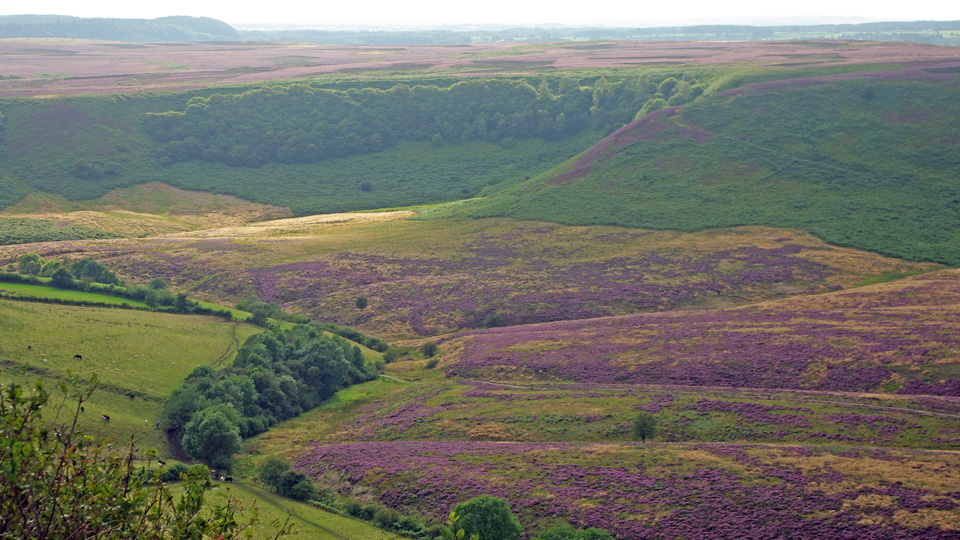 The North York Moors National Park - To the north east of England, an area of moorland that meets the sea in the east, the purple patches are flowering heather plants.
---
Barmouth - A sea-side resort at the southern edge of Snowdonia at the mouth of an esturay with mountains behind. Historical town, beaches, coastal and inland walks.
National Park
Snowdonia - Mountains and coast, rugged hill walks (Tryfan and the Glyders is my favourite) and sandy beaches, mines and castles, historical villages where over half the people can speak Welsh.
---
Gower Peninsular - Beaches and coastline, watersports and walking, an AONB.
The Welsh Marches, Welsh-English border - Offa's Dyke, an ancient boundary earthwork, many towns including Shrewsbury, Hereford and Hay-on-Wye. Medieval "black and white villages" with many half timbered buildings, Eardisland, Pembridge, Weobley and Dilwyn.
National Park
Pembrokeshire Coast - Wild and maritime landscape, rugged cliffs, sandy beaches, wooded estuaries. The Pembrokeshire Coast Path is a National Trail 186 miles (299 km) long with 35,000 feet (11,000 m) of ascent and descent.
Brecon Beacons - A group of inland mountain peaks, walking, watersports, mountain biking, pony trekking.
---
The Black Isle, Ross and Cromarty (not an island!) - A peninsula just north of Inverness, walking and cycling trails, resident bottlenose dolphins at Chanonry Point and the Moray Firth.
Iona Abbey and Isle of Iona, west of Mull on the west coast - A popular site of Christian pilgrimage, this and the other west coast isles are little populated, have a long history and are very scenic. 3.4 sq mi.
Pitlochry, Perthshire - A small resort town just south of the Cairngorms, events through the year and a good base for visiting the National Park, about 50 miles from the royal residence at Balmoral.
Isle of Skye, west coast - Stunning scenery and landscapes for climbers, ramblers or those who like to look at the view from a distance. Fishing villages and castles, connected by a bridge to the mainland. 639 sq mi.
National Park
Cairngorms - A mountain range in the eastern highlands, extensive wilderness and forests, there are 55 Munro's (mountains over 3,000 ft or 914m), wildlife rich with many rare and endangered species.
---
Isle of Arran, west coast in the Firth of Clyde - Stunning views and coastline, mountain peaks, beaches, forests, often called "Scotland in Miniature", 167 sq mi.
Dunkeld, Perth and Kinross - A small well preserved town on the bank of the river Tay surrounded by easy to access countryside.
National Park
Loch Lomond and the Trossachs - North and west of Glasgow, many mountains (21 Munros) and lochs where watersports are popular.
---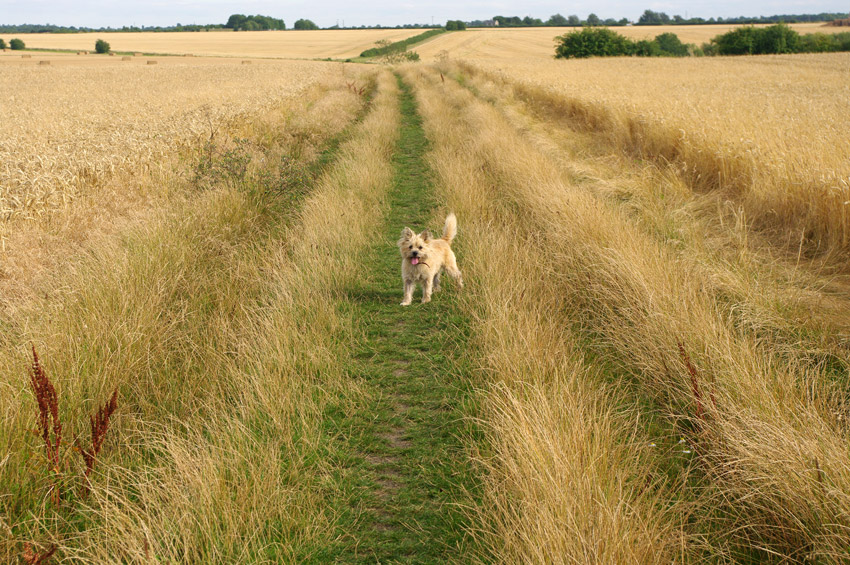 Footpaths and the "Right to Roam" - Britain is criss-crossed with public footpaths and rights of way that may go across privately owned land, these are often very old or even ancient paths that by law must be maintained by the land owner. The right to roam applies to "open access land" which may also be privately owned it includes some mountains, moors, heaths and downs where access is allowed without having to stick to the paths. The countryside is usually readily accesible wherever you are in Britain, it is often best enjoyed with an enthusiatic companion.
---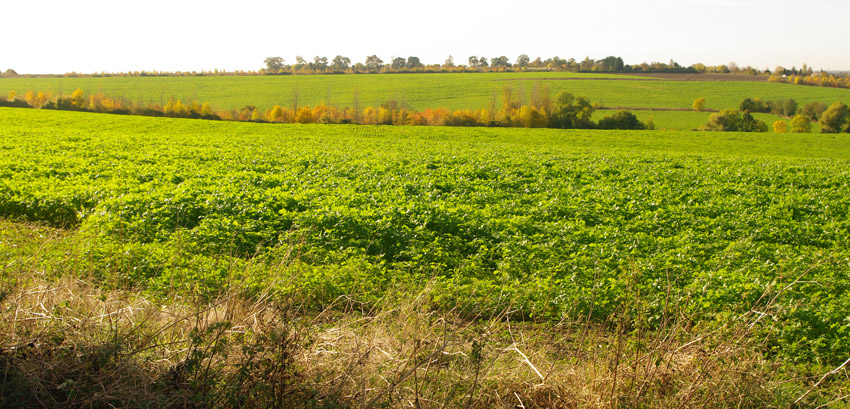 Cambridgeshire - This is at the edge of my village on one of several footpaths, it's not a tourist area but is typical of gently rolling english countryside where the predominant colour is always green, even in the depths of winter (this is late autumn).
---
Building the Countryside
Rain, Grass, Earthworms, Sheep and Enclosures
Rain and Grass
Britain is famous for rain and this is widely known as being the reason that it is so green. We don't get a huge amount of rain however and are fairly typical for most European countries in terms of annual amount. Where we do differ is that the rain falls regularly in relatively small amounts, droughts are rare compared to many countries, shorter when they do happen and we don't get the same level of being blasted by sun and high temperatures.
This means that grass which is a shallow-rooted plant is able to intercept those little and often sprinkles of rain efficiently and is not commonly subjected to protracted drying out. British grass doesn't just grow well, it is pretty much permanently growing and green, even through the winter as it doesn't get so cold here either. The lack of long dry spells means that our native grass species are the kinds that are soft and lush rather than tough and fibrous and they grow anywhere they can. Large natural areas of bare earth or gravel are rare here.
Earthworms
The soils of Southern England have some of the highest abundances of earthworms in the world. They busily breakdown plant matter and turn the soil over via their burrows at the rate of a couple of centimeters a year or so which doesn't sound much but over time stones, rocks and whole monuments start to sink and can become buried. This smooth's out the land and in part is what gives Britain its gently rolling hills.
Sheep
Long before the Industrial Revolution in the middle ages, much of England's wealth came from sheep's wool which could be produced in abundance and at high quality thanks to all that lush grass they had to eat as a result of the climate and the fertilizing effect of earthworms. From prehistoric times forest areas were cut down to provide grazing for animals such as sheep and once they are there they don't only eat the grass but cut off any shrubs or trees that start to grow from seeds. This state has continued ever since even though the value of wool has declined significantly. In particular tree cutting was extended to upland regions that had poor soils and were very difficult to otherwise cultivate, sheep are an easy way of getting a crop from poor farmland. The result today is that England has one of the lowest levels of tree cover at 10% against the average for Europe of 35% and 13% for the UK as a whole.
Enclosure
Parts of England in the South East have had small enclosed fields since prehistoric times, the rest of the country has seen fields gradually enclosed from the 12th century onwards by both informal and formal methods. This was accelerated through the 1500's when lowland arable fields were enclosed and converted to sheep pasture. Enclosed fields bounded with hedgerows or stone wall boundaries are still very common today even though many hedges were removed in the late 20th century to enlarge fields for modern machinery. More recently there are measures to promote and encourage the planting and maintenance of hedgerows for biodiversity.
---